AirSense™ 10 AutoSet™ for Her
Auto-adjusting pressure sleep apnoea device for women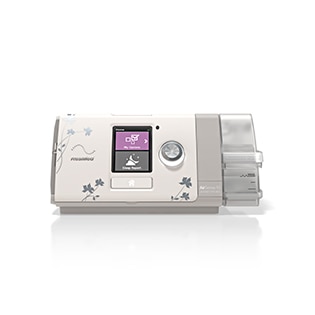 Auto-adjusting therapy device with an AutoSet algorithm tailored for OSA in women. The AirSense 10 AutoSet for Her delivers the same advanced performance as the standard model but targets female-specific OSA characteristics. Women account for almost 40% of newly-diagnosed OSA patients1.
Product code: 37247
Unique treatment for women
The AirSense 10 AutoSet for Her is based on the AutoSet algorithm and is tailored to the characteristics of OSA in women.
Research has shown that female patients have greater upper airway resistance2 so the AutoSet for Her algorithm is designed to be more sensitive to flow limitation.
Insightful reporting
ResMed's unique AutoSet for Her algorithm also provides a Respiratory Effort-Related Arousal (RERA) reporting feature within AirView, ResMed's securely-hosted cloud-based therapy management system. This feature provides additional clinical insight by ensuring that short events are identified.
Key features
A complete offering: The AirSense 10 AutoSet for Her can be paired with the AirFit for Her mask series to provide female patients with a complete therapy solution.
Built-in ambient light sensor adjusts the brightness of the screen based on the light in the room, so if patients need to get up during the night, the screen's back light won't disrupt their bed partners.
Easy-Breathe motor is whisper-quiet, offering patients and their bed partners a more peaceful night's sleep.
Built-in wireless connectivity enables you to monitor the patient, change settings and troubleshoot remotely.
Consistent humidification throughout the night with the optional integrated HumidAir humidifier with advanced HumidAir technology.
Buy online
ResMed Online Store is the one-stop-shop for sleep professionals, with immediate access to pricing, shipping and invoice details. Contact your ResMed representative to create an account or sign in to start buying and tracking ResMed products.
Warranty & services
Looking for service and warranty information on the ResMed AirSense 10 AutoSet for Her CPAP device?
Find the answers to your questions in our resource centre.
References:
Medicare and private payer sleep apnea claims data 2009.
Stoohs R, Janicki J, Hohenhorst W. Obstructive sleep apnea syndrome and upper airway resistance syndrome. Gender-related differences. HNO. Oct 2007 ;55(10):792-7.