Lumis HFT
High-flow therapy for COPD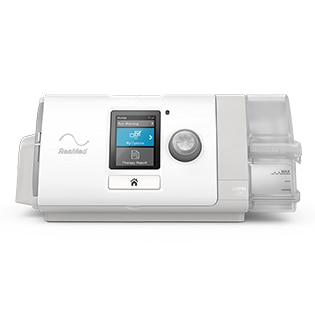 The Lumis HFT machine has been designed to deliver the benefits of humidification and flow to patients with COPD. It can be used at home and is suitable for COPD patients affected by chronic cough with mucous production.
Simplify life with an easy-to-use high-flow therapy device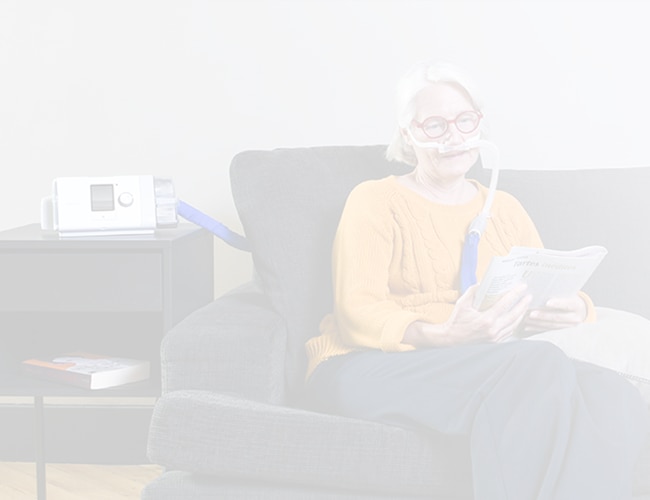 Lumis HFT can deliver a full night* of heated, humidified air – with or without oxygen – at adjustable flows, temperature and humidification settings. The user interface has been designed to be intuitive and simple to navigate. The refillable HumidAir™ heated humidifier and ClimateLineAir™ heated tube are easy to detach and clean and can be reused. Small, light and quiet**, Lumis HFT is a discreet presence in the patient's life and delivers comfortable therapy in the home.
Set up, titrate and monitor patients easily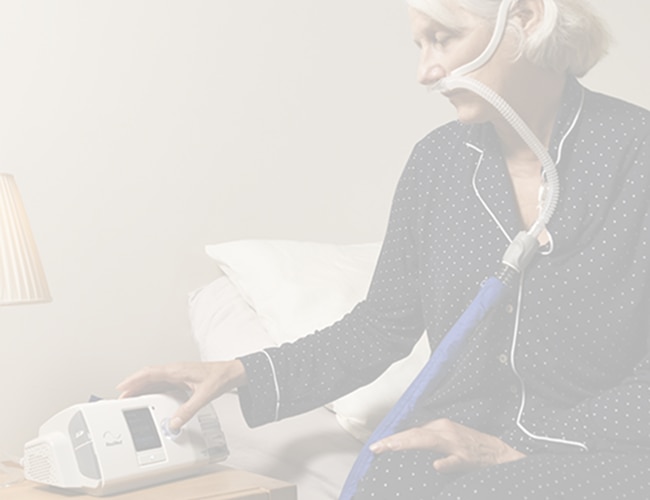 With just three settings and a straightforward interface, you can quickly and easily set up and titrate new patients. It is easy to add and humidify oxygen for COPD patients who have chronic cough with mucous production and are receiving long-term oxygen therapy (LTOT). Oxygen saturations can be monitored if necessary. *** Lumis HFT uses standard ResMed Air10 spares and accessories such as filters, humidifiers and tubing. This can help to simplify training, maintenance and logistics.
How to buy Lumis HFT
Please contact our Customer Service department or your local representative for more information on obtaining ResMed products.
Lumis HFT is not suitable for life support patients
Non contractual picture of the nasal cannula – Use only nasal cannulas recommended by ResMed
*Lumis can deliver up to 16 hours of flow at 15 L/min. Refer to the user guide for more information. Set up at Humidity – Level 3, and ambient temp. 23°C
** ClimateLine Air: 37 dBA with uncertainty of 2 dBA / ClimateLine Air and 5 L/min supp. O2: 45 dBA with uncertainty of 2 dBA – As measured according to ISO 80601-2-74:2017 (HFT mode)
*** When paired with an SpO2 monitoring device.