AirFit™ P10 for AirMini
Nasal pillows mask for AirMini machine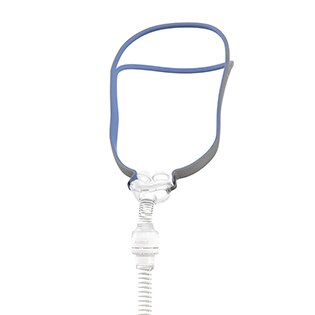 Nasal pillows mask designed exclusively for AirMini, the smallest CPAP device on the market*. The AirFit P10 for AirMini features a dual-wall cushion, a compact under-the-nose frame, split-strap headgear and effective, built-in waterless humidification thanks to the innovative ActiveAir vent.
Product codes: Mask Pack (38824), P10 Connector for AirMini (38845)
A simple and easy design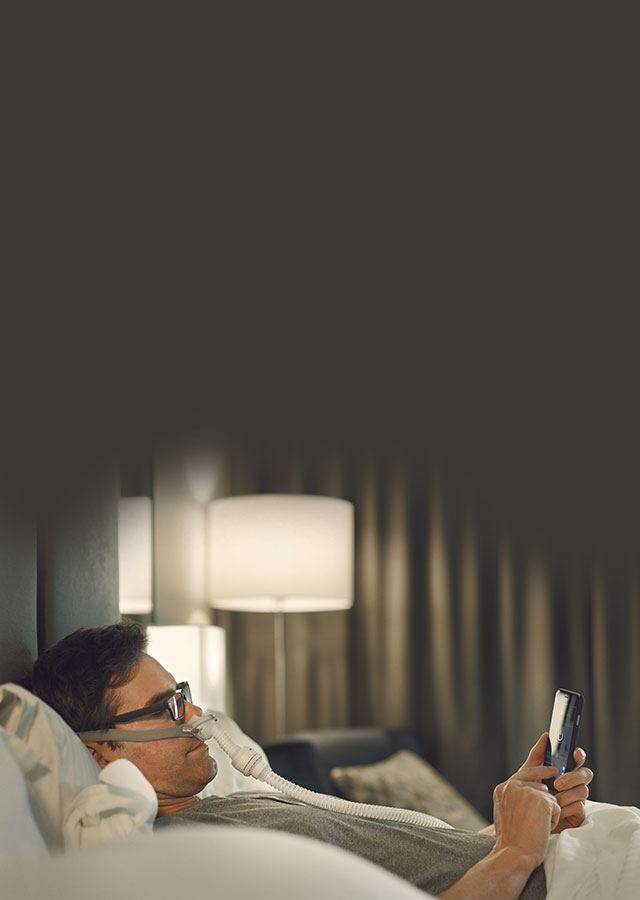 AirFit P10 for AirMini is one of ResMed's smallest masks for ResMed's smallest system. Its compact, under-the-nose frame and split-strap headgear are designed to allow patients to fit themselves.
With just 4 components and an intuitive click-in design, it's built to be easy to fit, clean, assemble and help make mask setup close to effortless.
ActiveAir technology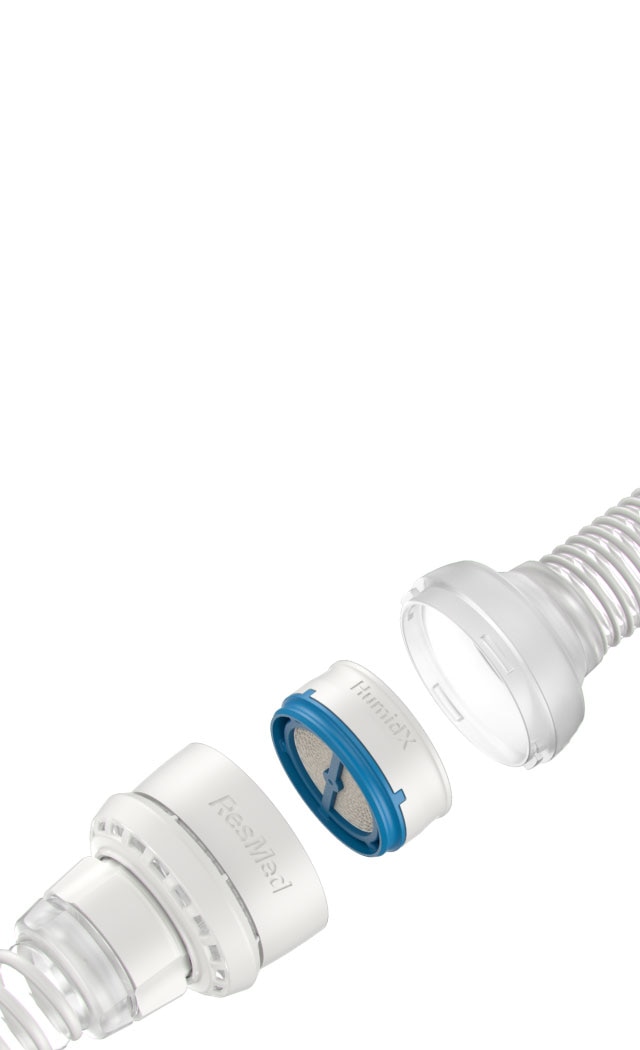 ResMed designed the innovative ActiveAir venting technology to minimise vent flow and enable efficient delivery of therapy performance.
The HumidX™  waterless humidification system can be inserted between the mask and the tube, allowing it to capture the air's warmth and humidity before it escapes through the tube's built-in vent.
As simple to use as it is innovative, HumidX requires no water or electric power. Instead, its unique Heat and Moisture Exchange (HME) technology works in synergy with the built-in vent to maintain heat and moisture levels as a patient breathes in or out.
Renewing the legacy of AirFit P10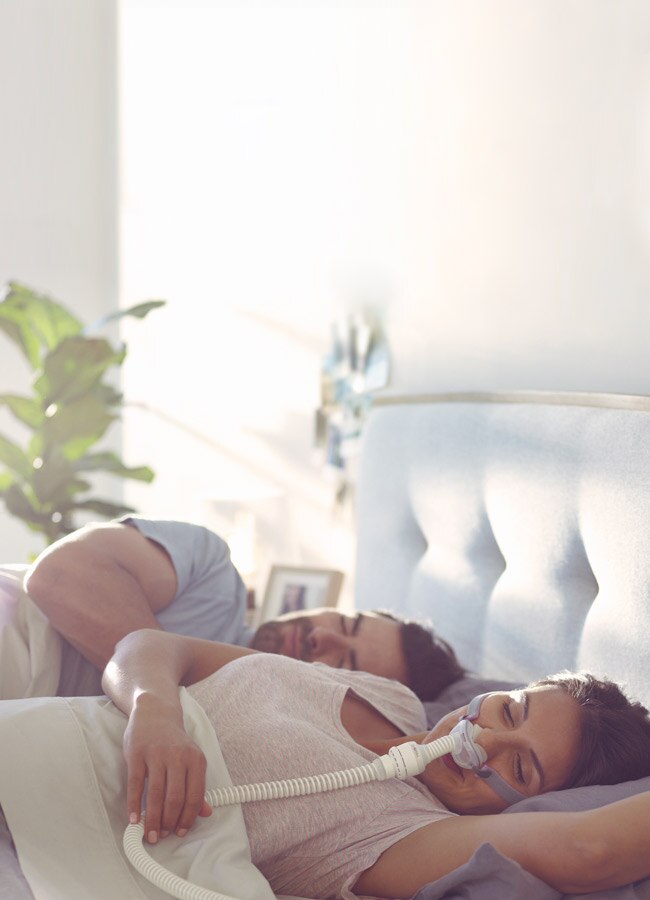 Keeping things simple, we've taken the innovative design of ResMed's smallest and best-selling nasal pillows mask, the AirFit P10, and adapted it for AirMini.
The AirFit P10 for AirMini combines the best loved features of the original mask with our latest technologies.
The AirMini Solution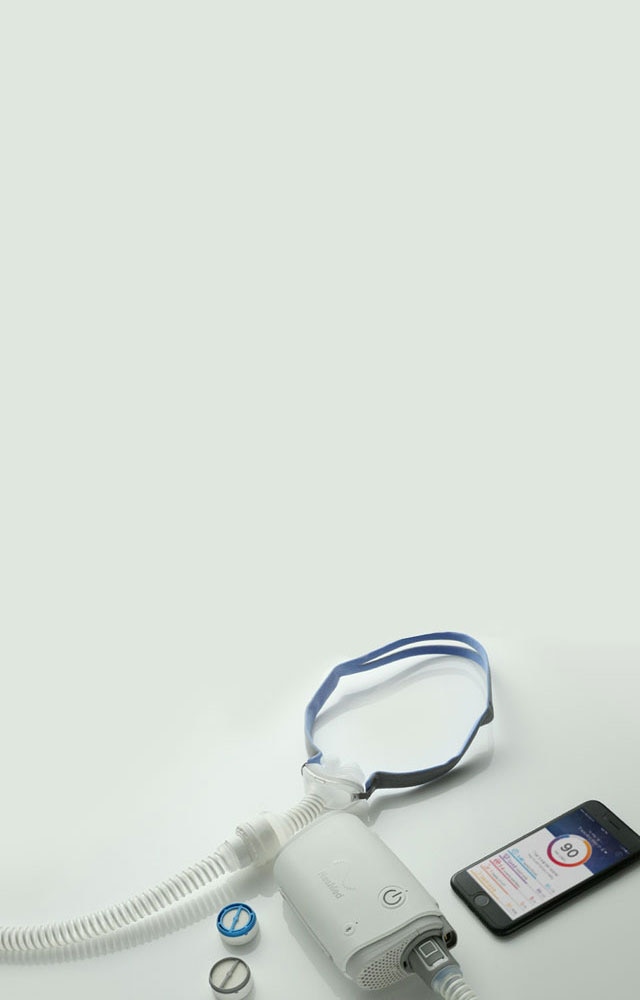 Small in size, big on features, the AirMini Solution provides patients with the same best-in-class therapy you've come to expect from ResMed in a complete package that's truly compact and patient-friendly.
The solution features the P10 for AirMini mask, the AirMini device and a tube with a built-in vent. Patients also get access to the AirMini App, which they use to track their therapy data and manage their comfort settings, all from the convenience of any smartphone or tablet.
Buy online
ResMed Online Store is the one-stop-shop for sleep professionals, with immediate access to pricing, shipping and invoice details. Contact your ResMed representative to create an account or sign in to start buying and tracking ResMed products.
Warranty & services
Looking for service and warranty information on the ResMed AirFit P10 for AirMini nasal pillows mask?
Find the answers to your questions in our resource centre.
References:
*As of the 6th February 2020.