AirFit™ P10
Nasal pillows mask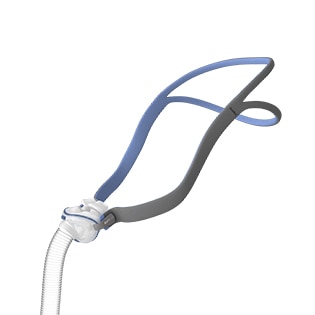 Nasal pillows mask that combines performance and reliability1 in a quiet,2  light, user-friendly format. The AirFit P10 and 'For Her' variant are designed to be as unobtrusive and comfortable as possible and feature a very discreet, highly effective QuietAir vent1.
Product Codes: complete system S, M, L (62901), complete system for Her (62911)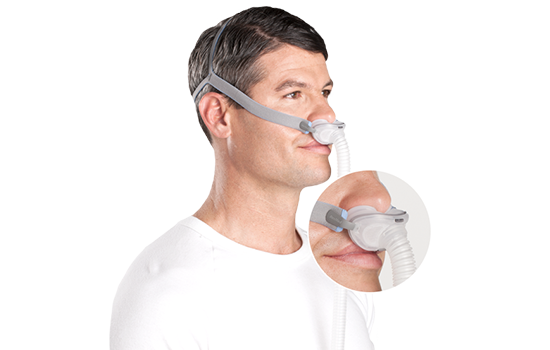 Ultra quiet
Innovative QuietAir™ woven-mesh venting gently directs away exhaled air, so it's barely noticeable to patients and their bed partners. The AirFit P10 is also approximately 50% quieter than its predecessor, the Swift FX.2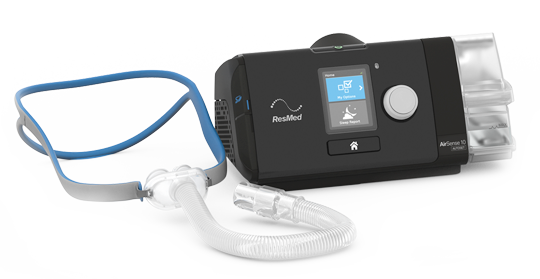 Ultra light
The AirFit P10 is designed to be as unobtrusive and comfortable as possible. It features a revolutionary flexi-tube that's ultra light, letting patients move around more freely without compromising seal. The AirFit P10 is also 50% lighter than its predecessor, the Swift FX.
Other features
Easy to fit. QuickFit™ elastic headgear automatically adjusts to each patient's head. It can be fitted in under 30 seconds.1
User friendly. The mask's minimalist three-piece design makes it easy for patients to assemble and clean, promoting acceptance and compliance.
Intuitive. The AirFit P10's key-clip nasal pillows are colour coded for easy sizing and fast fitting, and also feature left/right-orientation so patients can instantly see what side faces up and what side faces down.
Comfortable. The nasal pillows seal on contact, with trampoline action that lets patients move around freely and comfortably without compromising seal.
Buy online
ResMed Online Store is the one-stop-shop for sleep professionals, with immediate access to pricing, shipping and invoice details. Contact your ResMed representative to create an account or sign in to start buying and tracking ResMed products.
Warranty & services
Looking for service and warranty information on the ResMed AirFit P10 nasal pillows mask?
Find the answers to your questions in our resource centre.
Equip your patient & clean the AirFit P10 mask
Keen to explore other masks?
ResMed's CPAP mask categories are designed to reflect your patients' needs and sleep habits. Our Versatile Fit, Freedom and Minimalist mask categories make it easier to find the right mask.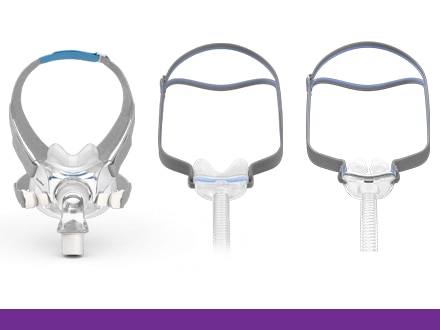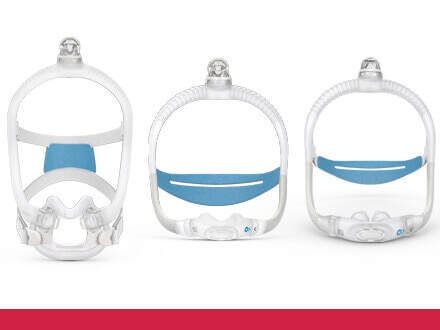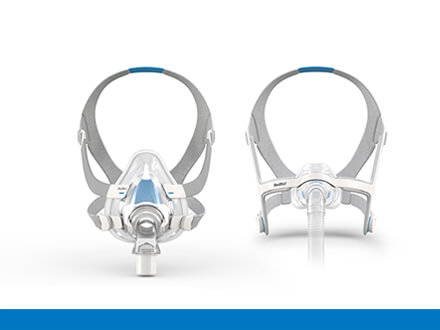 References:
ResMed Clinical Study Comparing AirFit P10 to Swift FX. ResMed objective data (pressure, leak, average daily usage, AHI) collected from a sample size of 21 participants. Data on file; A3135273
Sound power level of 21 dBA –  AirFit P10 user guide, ResMed Pty Ltd 2017. ID A3095513