AirFit™ N30i
Nasal cradle mask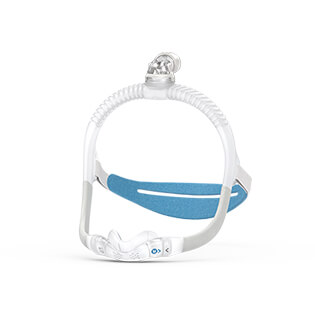 Ultra-compact, tube-up, nasal cradle mask that gives patients the freedom to sleep in the position of their choice. The AirFit N30i's self-adjusting frame comfortably fits1 a broad range of faces while the under-the-nose design eliminates issues with discomfort and red marks on the nasal bridge.
Product codes: Standard starter pack (63815), Small starter pack (63816)
Designed for the active sleepers
The tube-up design of the N30i is adapted for active sleepers. Patients can sleep in any position without compromising seal or comfort.
The snug fitting SpringFit frame, carefully engineered septum bridge and tube-up design with 360° rotation capability keep pace with every twist and turn. If they get up during the night, the quick-release elbow keeps life simple.
Streamlined operations
The AirFit N30i nasal cradle mask has a streamlined setup design to minimise fitting time and stock management.
Fitting is fast, easy and accurate. Two frame sizes and two cushion sizes deliver a good fit for the vast majority of patients.1 Two extra cushion sizes provide an option for everyone. Simplify your logistics and help your customers to feel cared for and comfortable.
Simple solutions to expand your reach
As well as being easy to integrate into your business, the N30i allows you to expand your service offering.
Active sleepers, stomach sleepers, reluctant patients, patients with sensitive skin on the nose: the N30i is an attractive option for anyone who finds it difficult to comply with therapy using a traditional mask.
Buy online
ResMed Online Store is the one-stop-shop for sleep professionals, with immediate access to pricing, shipping and invoice details. Contact your ResMed representative to create an account or sign in to start buying and tracking ResMed products.
Warranty & services
Looking for service and warranty information on the ResMed AirFit N30i nasal cradle mask?
Find the answers to your questions in our resource centre.
Reference:
ResMed external 7-day clinical study of 24 ResMed and non-ResMed patients, conducted between 21/02/2018 – 12/03/2018. Data on file; ID A4320645.