ResMed warranty information
Looking for ResMed warranty information on a mask, CPAP device or other ResMed products? See below for details or contact our customer service team if you have ResMed warranty questions.
Limited warranty
ResMed Ltd (hereafter 'ResMed') warrants that a ResMed product shall be free from defects in material and workmanship from the date of purchase for the period specified below.
Product:

Warranty period:

Mask systems (including mask frame, cushion, headgear and tubing)-excluding single-use devicesAccessories-excluding single-use devices
Flex-type finger pulse sensors
Humidifier water tubs (non-reusable)

90 days

Batteries for use in ResMed internal and external battery systems

6 months

Clip-type finger pulse sensorsCPAP and bilevel device data modules
Oximeters and CPAP and bilevel device oximeter adapters
Humidifier* and humidifier cleanable water tubs (reusable)
Titration control devices

1 year

CPAP, bilevel and ventilation devices (including external power supply units)
Battery accessories*
Portable diagnostic/screening devices

2 years

Narval CC dental appliance**

2 years**
* The warranty period may vary for accessories.
** ResMed acknowledges all consumer rights granted under the EU Directive 1999/77/EC and respective national laws within the EU for products sold within the European Union. The warranty below is a voluntary manufacturer's warranty offered by ResMed SAS ("ResMed"). It is in addition and without prejudice to your mandatory rights under applicable law.
ResMed guarantees all Narval CC appliances supplied to be free from defects in materials and workmanship for a period of 2 years from the manufacturing date shown in the packaging. In specific circumstances, which may vary from region to region, your warranty period may be longer than 2 years. For details, please contact your dental practitioner. During the warranty period and at its complete discretion, ResMed will adjust or replace any Narval CC appliance that is covered by the warranty.
Adjustments covered by the warranty may only be performed by a ResMed facility or a ResMed authorised partner.
The warranty does not cover:
– damage that is not caused by manufacturing defects,
– devices that do not fit due to defective or distorted impressions and/or defective or distorted bite registrations,
– dental calculus deposits, stains, changes of colour or odours,
– damage caused by a pet.
The warranty shall be void if:
– the patient had dental restorative work or dental modifications (e.g. tooth extractions, new crowns, new dental prosthetics) during the warranty period and the defect results from the work or modification,
– the Narval CC appliance was not used and cleaned in accordance with the instructions for use, or
– the Narval CC appliance was modified by a non-authorised party.
For the warranty to be honoured, the following elements must be returned to ResMed by the dental practitioner: both splints with their connecting rods, storage box and the patient's dental models.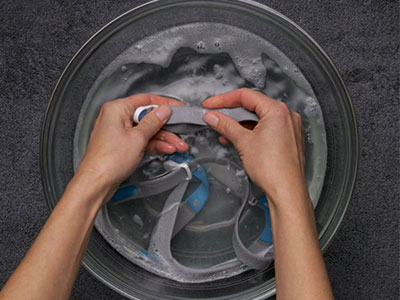 Over time, facial oil build-up can accelerate wear and tear on your patient's mask and cause discolouration. We recommend that your patients clean their masks regularly to ensure optimum therapy.
Explore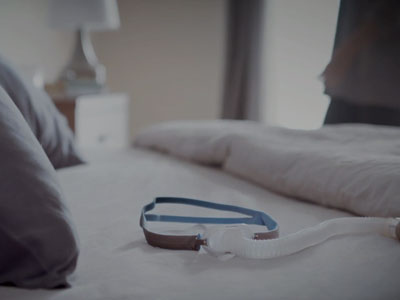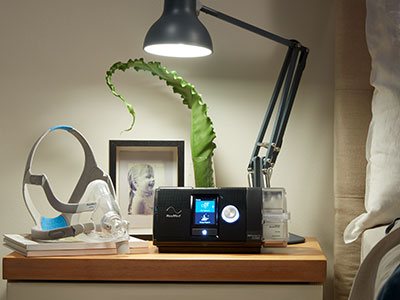 Your patient's device and accessories needs to be well maintained to constantly deliver effective treatment.
Explore