Starting CPAP therapy for sleep apnoea
If you've been diagnosed with sleep apnoea you might be anxious about your health or about starting CPAP therapy. Try not to worry: treating your sleep apnoea is a great investment in your health and happiness and plenty of help is available. Let's get started!
What are the benefits of CPAP therapy?
The benefits of effective CPAP therapy for sleep apnoea include a more positive mood1, more daytime energy2 and a lower risk of accidents3 . Remember: to enjoy the benefits, you should use your CPAP device every night, for as many hours as possible4.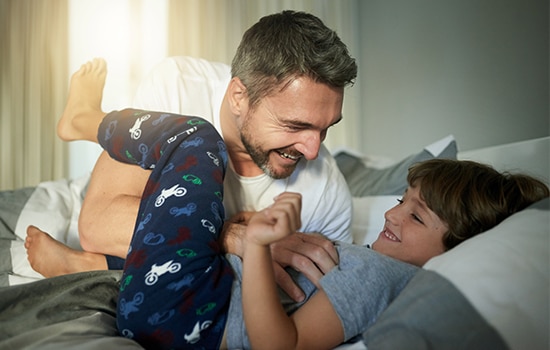 What is a CPAP machine?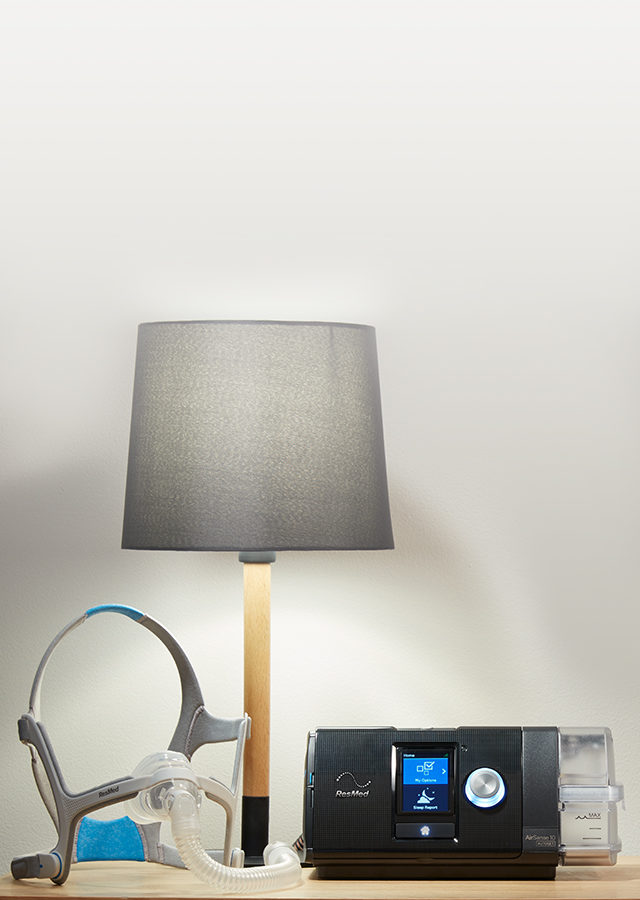 CPAP stands for continuous positive airway pressure, which is a therapy that's commonly used to treat sleep apnoea. APAP and Bilevel devices look similar but use a different therapy algorithm. All of these machines deliver air through tubing and into a mask to keep your airway open while you sleep and help you get a good night's rest.
The four types of obstructive sleep apnoea machine
Track your PAP therapy with the myAir™ app
Wouldn't it be motivating if you could see that you're making progress on your PAP therapy treatment?
myAir can motivate you to stick with therapy5 by giving you insight into what's going well and helping you to solve minor issues. Try the myAir app from ResMed, designed for Air10TM PAP therapy device**.
Which CPAP mask should I choose?
Your mask is a really important piece of CPAP equipment.
A mask that's badly fitting, uncomfortable, or impractical could make your therapy less effective and stop you from enjoying the benefits of treatment. Take the time to find the right CPAP mask for you and don't be afraid to ask your doctor or sleep technician for help trying out different options.
What if I struggle to adjust to CPAP therapy?
Some people struggle to adjust to CPAP therapy: it's a significant lifestyle change. Take your time to get used to therapy and don't give up. Using sleep apnoea treatment regularly each night could have a really positive impact on your health and wellbeing. Here are our suggestions for making the experience a little easier:

Optimise your experience
Find ways to make CPAP easier, more convenient and more 'you'. Practical accessories, travel solutions and even small things like a different style of mask strap can make a difference.

Visit our support section
If you're struggling with a specific problem, why not visit our support pages to see if you can find a solution?

Ask for help
Your doctor or sleep therapist might be able to adjust your device or your mask to make it more comfortable. Find your local sleep clinic. They'll probably be glad to help you adjust your equipment and make the most of your treatment.

Ask about an MRD
If CPAP just isn't your thing, ask your doctor about an effective alternative treatment such as the Narval MRD***.
Learn more about MRD therapy here.
Please refer to the user guide for relevant information related to any warnings and precautions to be considered before and during use of the product. 
* As at 18 March 2021. 136 mm (W) x 84 mm (D) x 52 mm (H), 450 cm³. 
**myAir is compatible with ResMed AirSense 10 devices and AirCurve 10 devices with built-in wireless connectivity. myAir is not available in all countries. Some features of myAir are only available in the myAir app.
***Please note the Narval CC mandibular advancement device is not available in England, Scotland or Wales.
References:
McEvoy, R.D., et al., CPAP for Prevention of Cardiovascular Events in Obstructive Sleep Apnea. N Engl J Med, 2016. 375(10): p. 919-31.
Wimms, A.J., et al., Continuous positive airway pressure versus standard care for the treatment of people with mild obstructive sleep apnoea (MERGE): a multicentre, randomised controlled trial. Lancet Respir Med, 2019.
Findley L, Smith C, Hooper J, Dineen M, Suratt PM. Treatment with nasal CPAP decreases automobile accidents in patients with sleep apnea. Am J Respir Crit Care Med 2000;161: 857-9.
Weaver, T.E. and R.R. Grunstein, Adherence to continuous positive airway pressure therapy: the challenge to effective treatment. Proc Am Thorac Soc, 2008. 5(2): p. 173-8
Price Waterhouse Coopers. Empowering the sleep apnoea patient. A ResMed-sponsored study of how myAir users behave better. 2016.