Digital health for Sleep Apnoea
The power of technology. The value of experience. ResMed was one of the first companies to build cellular connectivity into each of our CPAP devices. We're now a global leader in daily remote patient monitoring1, with more than 16 million cloud-connectable devices in our network.* And that number is growing every day.
Connectivity that works for you and your patients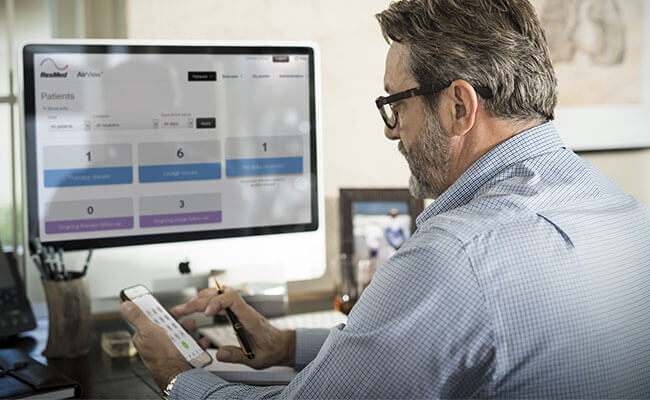 Remote coordination modernises care with intuitive devices and intelligent supporting software. They give you an in-depth understanding of your patients' PAP therapy and help to drive efficiencies and improvements in their care pathway.2
Can digital health drive efficiencies in sleep apnoea patient monitoring management?
When telemonitoring is used to follow the majority (70%) of clinic patients, care providers can increase by 25% their capacity to treat new patients3
AirView's Action Groups feature filters your patients into actionable groups based on defined criteria while Care Check-In helps you to identify patients who are struggling with the therapy experience. These features help you to focus your energy where it's needed.
Remote troubleshooting for devices can reduce processing and postage costs4 for incorrectly returned devices. It is more convenient for patients and limits the risk that their therapy will be disrupted.4
Clinics and home care providers spend considerable amounts of time explaining how CPAP treatment works and showing patients how to use and adjust their mask and machine. In-app coaching tools, available at the moment the patient needs help, can reduce that load.
Connected solutions can generate usage reports based on therapy data that is collected automatically from patients' devices. This facilitates patient follow-up and, when relevant, can also be used to support social security reimbursement claims.
Telemonitoring enables physicians to keep a watchful eye on their patients' condition at all times. This increase in low-level background monitoring reduces the need for in-person follow-up. In fact, one study showed that telemonitored CPAP patients visited their physician 2.3 times per year versus 4.5 times for those on traditional pathways while the frequency of DNAs (Did Not Attend) dropped to zero.5
The advantages of interoperability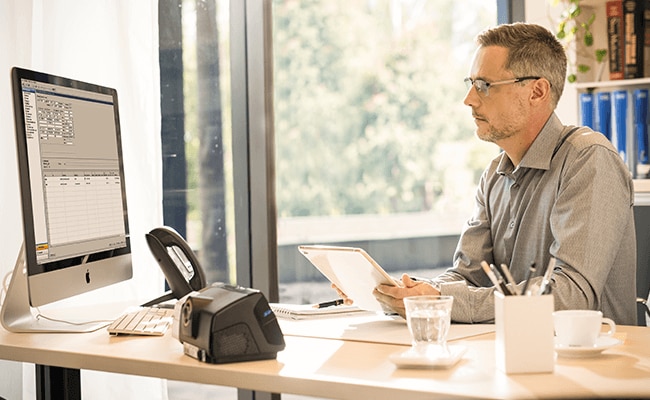 As a healthcare provider, you are probably affected by a lack of interoperability between the different IT systems and solutions you use. This can result in difficulties keeping information in sync, duplication of effort and inconsistent data. Our integration solutions solve this challenge. Each of our digital health solutions and services is designed for interoperability, flexibility, effective workflows, improved outcomes and more cost-effective healthcare.
Unlocking the power of data
While you're working to make life better for your patients today, clinical research is helping to craft a better tomorrow. ResMed's Air Solutions family of devices, apps, patient monitoring software and diagnostic tools securely collects data that is powering research into product development and delivery improvements. This will enable ResMed to develop new features and innovations to support you to deliver better care to your future sleep apnoea patients.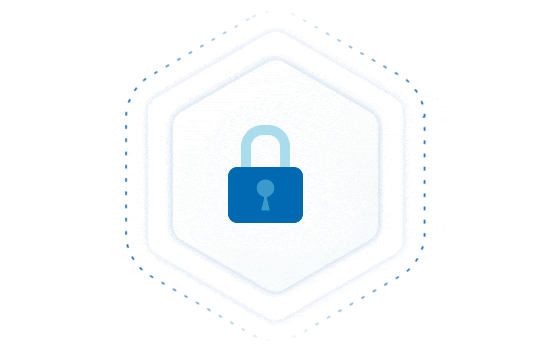 Ethical, data-driven care
Data insights drive ResMed's product innovation. By choosing ResMed, you're partnering with a company whose priority is to develop life-changing solutions through ethical means. We take a robust and transparent approach to the collection and storage of sensitive data. Our processes are backed by independently-audited certifications and the fulfilment of legally required regulations, like MDR and GDPR.
Please refer to the user guide for relevant information related to any warnings and precautions to be considered before and during use of the product.
References:
* As of the 13th April 2022.
** AirView was built to be secure and compliant with (EU) 2016/679 (General Data Protection Regulation) and national privacy laws. It uses data encryption technologies to secure patient data. ResMed obtained dual HDS/ISO 27001 certification for AirView to demonstrate our commitment to secure data processing and hosting and to ensure our teams and systems were operating at the highest standards, as verified by independent auditors.
Berg Insight AB. mHealth and Home Monitoring – 8th Edition. Gothenburg, Sweden. M2M Research Series; 2017.
ResMed Air11 External Clinical Study of 95 clinicians, conducted in August-September 2021 – data on file; ID A5079159.
Price Waterhouse Coopers. Effects of telemonitoring on treatment of sleep disordered breathing, 2015, Obj ID B88851.
Price Waterhouse Coopers. Telemonitoring Solutions for a Homecare Provider in Obstructive Sleep Apnea (OSA), 2015, Obj ID C250425.
"An evaluation of the benefits of a telemedicine service for CPAP follow up" Fillingham R C, Clinical Measurement Department, Royal Derby Hospital, 2014.
Malhotra A, et al. Patient engagement using new technology to improve adherence to positive airway pressure therapy: A retrospective analysis. Chest 2018; 153(4):843-850.
Price Waterhouse Coopers. Empowering the sleep apnoea patient. A ResMed sponsored study of how myAir users behave better. 2016.