Quality: from product compliance to patient care
Our robust quality management system maintains and improves the security, usability and performance of our medical devices and solutions so you can feel confident about the care you provide.
Under MDR, medical device manufacturers, importers and distributors are required to gather, record and analyse data on quality, usability and safety across each device's entire lifespan. Manufacturers are also required to design and implement a post-market surveillance plan to enable monitoring and continuous improvement throughout the lifecycle of their medical devices.
To enable ResMed to meet its obligations under MDR and guarantee the highest standards of product quality and safety, our robust Quality Management System (QMS) collects:
Passive data, including audit reports, complaints, MD reports and technical service activities,
Proactive data, such as publications, clinical studies and customer surveys,
Real-life data from our devices.
All of these data populate our PMSS (post-market surveillance system).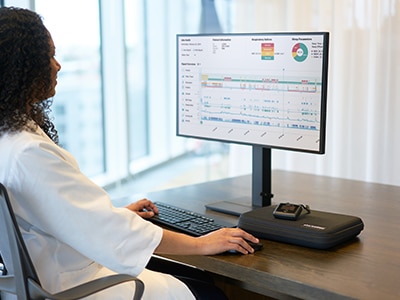 The benefits of effective real-life data management
MDR creates new quality management responsibilities for ResMed and its distributors. But it also provides new opportunities to tackle healthcare challenges and improve quality of care. That's because the regulations require us to collect data about how our devices work on a day-to-day basis and work together to improve performance and transparency across the product life-cycle.
Instead of relying on clinical studies and customer surveys to understand how devices are used, we will be able to see how they work in real life. Device data will tell us how patients experience their device and their disease and enable us to identify factors that could be used to improve efficacy and adherence. As a result, thanks to real-life data management, you will have access to devices and solutions that respond more closely to your patients' needs and enable you to provide more responsive, effective care.
Quality data
MDR reinforces the post-market surveillance system (PMSS) that already forms an integral part of ResMed's Quality Management System (QMS). ResMed now has new regulatory obligations to monitor the quality, performance and safety of each device across its lifespan and identify options to improve the usability, performance and safety of its devices. By collecting and analysing accurate, high quality data, we can improve the quality of the medical devices that you use to treat your patients.
Quality security and privacy
Data is a sensitive subject so it's good to know that all the data we collect to comply with MDR is protected by GDPR, one of the toughest privacy and security laws in the world. ResMed uses secure, certified, end-to-end systems, processes and protocols that maintain security, confidentiality, privacy and data integrity. We have a legal obligation to collect and analyse real-life device data but we also have legal and ethical obligations to keep that data safe.
Quality relationships
MDR implements and reinforces quality checks at all stages from manufacturing to the end user. But it's also designed to promote cooperation and effective communication between stakeholders for the entire duration of the product life cycle. ResMed is working closely with its partners, especially distributors, notified bodies and national authorities, to ensure that our shared responsibilities for MDR translate to shared successes.
Quality care
Real-life device data will extend our capacity to understand how patients experience their therapy and manage their disease on a day-to-day basis. We will be able to design devices that offer better technical performance, ergonomy and functionality, support treatment adherence and improve the patient experience. More accurate insights will help us to drive positive outcomes that enable you to deliver better quality care.
Medical Device Regulation (2017/745 – MDR) is a new European Union regulation that is due to come into force on 26 May, 2021. It replaces the existing Medical Devices Directive (Directive 93/42/CEE – MDD). MDR imposes strict obligations on all organisations that manufacture, import or distribute medical devices in the EU.
The main objectives of MDR are to:
Improve the safety, quality and reliability of medical devices, in some cases by requiring medical devices to comply with additional safety and risk management requirements.
Strengthen transparency of information for consumers: every medical device on the market will be given a Unique Device Identifier (UDI) code and registered in the EU Database for Medical Devices (EUDAMED).
Enhance vigilance and market surveillance through mandatory pre- and post-market data collection across the entire lifespan of the device.
ResMed has worked intensively for more than two years to update its quality management system (QMS) and product portfolio documentation to align with the new MDR requirements. For ResMed products placed on the EU market:
All Class I ResMed devices (e.g. batteries, Narval MAD, tubing) will be compliant with the new MDR requirements on 26 May, 2021.
All other ResMed medical devices will transition to MDR certification gradually , starting in 2021 and concluding no later than 25 May, 2024.
MDR creates new responsibilities for ResMed to actively and systematically gather, record and analyse relevant data on its medical devices across their entire lifespan. These data must be used to determine, implement and monitor any preventive and corrective actions that could improve the usability, performance and safety of the device. ResMed is also responsible for establishing, implementing, documenting and maintaining a risk management system to estimate and evaluate any risks that may arise when the device is used as intended. ResMed is the data controller under GDPR and is accountable for the maintenance and management of its QMS.
Penalties for failing to comply with MDR can include fines, litigation, product recalls, financial damage and a loss of access to markets and materials, as well as reputational damage.