Patient health data helps improve quality of life
Patient health data is a powerful force in a fast-evolving digital healthcare environment. It's driving transformations in safety, quality and product performance that couldn't be achieved by any other means.
Patient health data has probably improved your quality of life. Maybe it contributed to making a treatment safer or more effective. Maybe it allowed you to attend a remote appointment when you didn't want to leave the house, or request a prescription online. Maybe you're using it to keep track of your health through your smartphone, or benefiting from a better quality of care by letting medical staff share access to your patient notes.
It's clear that patient health data has benefits, but it also raises questions. How is it kept safe? How is your privacy protected? How is it accessed and analysed – and by whom? And can you be sure that these data activities really benefit patients like you, now and in the future?
How patient health data can improve patient care?
Patient health data is a powerful force in a fast-evolving digital healthcare environment. It's driving transformations in safety, quality and product performance that couldn't be achieved by any other means. Concepts like online consultations, remote monitoring and shared digital medical records have stepped out of science fiction and into everyday life. In Europe, the MDR (Medical Device Regulation) obliges medical device manufacturers to gather, record and analyse data across device's lifespan with a view to promoting continuous improvements in device quality, usability, safety and performance.
At ResMed, we are committed to high standards of regulatory compliance, data security and patient privacy. We want to be transparent about how we collect, store, use and protect patient health data. And we want you to understand why patient health data is so important for all of us.
Real-life patient health data collected from devices have joined clinical research as a key driver of healthcare transformation. And just like clinical research, the data is subject to strict regulations and standards that ResMed is proud to uphold. To keep your data safe, we implement stringent security and privacy protocols and comply with relevant regulations and independent, best-in-class certification standards. We monitor the real-life performance of our devices and solutions to ensure they deliver quality, safety and usability. To promote responsive care, good outcomes and positive experiences, we use digital technologies to drive innovation and move patient care forward, faster.
Better data, better care
If we take the example of sleep apnoea, only 52% of people who start CPAP therapy are still using it after three years1. That's bad news for the 48% of people who stop treatment: they were prescribed CPAP because they needed it. Untreated sleep apnoea puts you at risk of serious health problems as well as affecting your relationships2, energy levels and mood3.
Could patient health data help more people stick to CPAP therapy? The answer is 'yes', as long as enough people participate. Data from one person can help physicians to deliver appropriate care to that person. Data from tens of thousands of people can help companies to design better products and solutions that raise the quality of care for everyone.
By collecting real-life data from CPAP devices and non-life support ventilators, ResMed can understand how people experience their therapy and manage their disease. That means we will be able to design devices that offer better technical performance, usability and functionality, which in turn will improve the patient experience and help people to stick with therapy over the long term. For you, it might mean that you feel happier and have more energy to do the things you love.
Your patient health data can also help you to enjoy a better quality of care. AirView, ResMed's telemonitoring solution, allows your care provider to access and interpret health data from your therapy device, adjust your device settings* and troubleshoot issues that arise. If they identify an issue, they can make sure you get the appropriate treatment and support rapidly.
How do we collect your patient health data in Europe?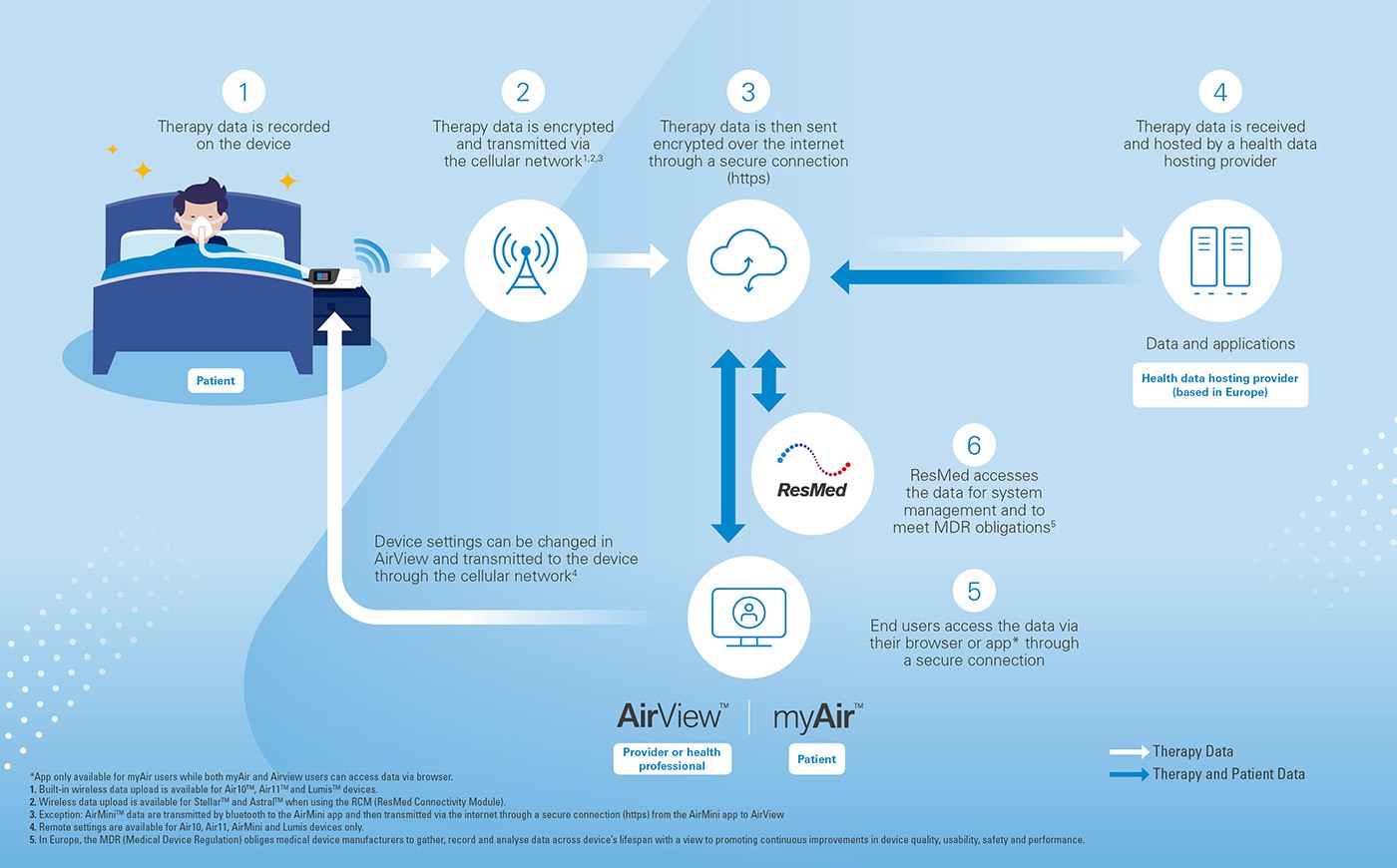 Please refer to the user guide for relevant information related to any warnings and precautions to be considered before and during use of the product.
Pépin J-L, Bailly S, Rinder P, Adler D, Szeftel D, Malhotra A, Cistulli PA, Benjafield A, Lavergne F, Josseran A, Tamisier R, Hornus P, on behalf of the medXcloud Group. CPAP Therapy Termination Rates by OSA Phenotype: A French Nationwide Database Analysis. Journal of Clinical Medicine. 2021; 10(5):936. https://doi.org/10.3390/jcm10050936
Cho, Wook J., and Jeanne F. Duffy. Sleep, Sleep Disorders, and Sexual Dysfunction. World J Mens Health,37(3): 261–275.
Osman, Amal M., et al. Obstructive Sleep Apnea: Current Perspectives. Nature and Science of Sleep, 2018. 10: 21–34.
*When the functionality is available