Lumis HFT™
A complete high-flow therapy solution
The Lumis HFT machine has been designed to deliver the benefits of humidification and flow to home-based COPD patients affected by chronic cough with mucous production. Featuring built-in wireless connectivity, Lumis enables you to monitor all of your respiratory patients in AirView, ResMed's securely-hosted*, cloud-based patient management system.
Discover the complete, connected solution composed of Lumis HFT, AcuCare HFNC and AirView.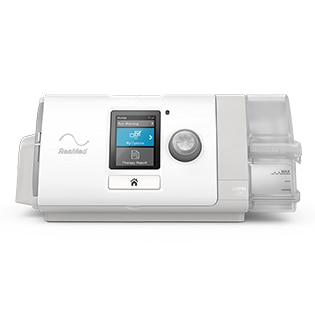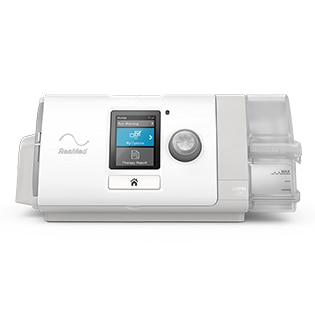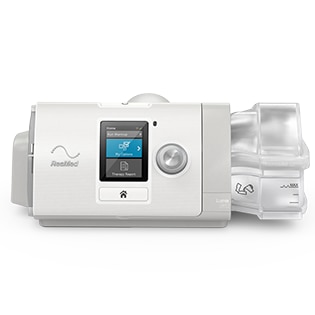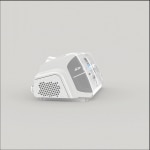 Simplify life with an easy-to-use high-flow therapy device
Lumis HFT can deliver a full night** of heated, humidified air – with or without oxygen – and features adjustable flow, temperature and humidification settings.
The user interface has been designed to be intuitive and simple to navigate. The HumidAirTM heated humidifier and ClimateLineAirTM heated tube are easy to detach and clean and can be reused.
Small, light and quiet***, Lumis HFT is designed to deliver comfortable therapy in the home and blend into the background of the patient's life.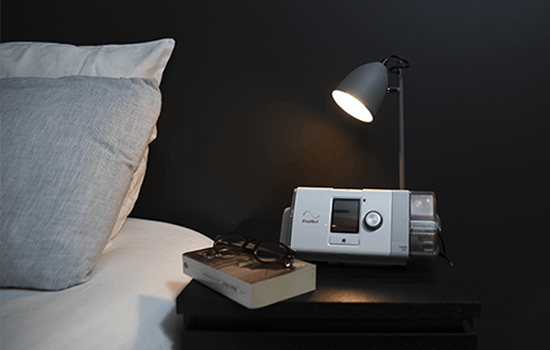 Set up, titrate and monitor patients easily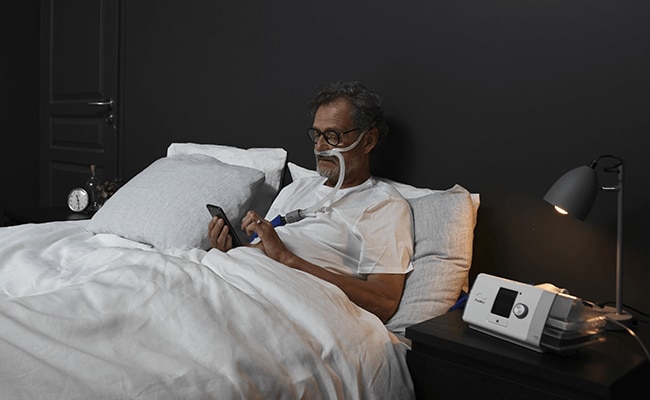 With just three settings and a straightforward interface, it's quick and easy to set up and titrate new patients. You can also add and humidify oxygen for COPD patients who are receiving long-term oxygen therapy (LTOT) and have chronic cough with mucous production.
Lumis HFT uses standard ResMed Air10 spares and accessories such as filters, humidifiers and tubing. This can help to simplify training, maintenance and logistics.
Maintain visibility at all times
Identifying and troubleshooting problems rapidly could help to improve adherence and reduce drop-outs. But it can be difficult to keep a close eye on all of your patients. That's why, with AirView for HFT, you can monitor:
Your patient's therapy duration and usage patterns
SpO2 values****, which may prove helpful during titration or follow-up of HFT patients requiring supplemental oxygen.
When you identify an issue or a data point of interest, you can easily generate a pre-configured report to share with colleagues and caregivers.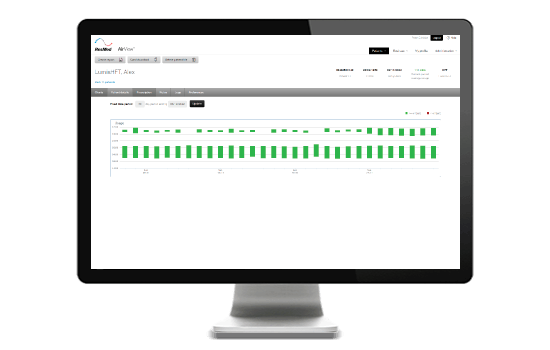 Pair Lumis HFT with ResMed's durable AcuCare high-flow nasal cannula. It's designed to be easy to fit and can deliver up to 30 days of home-based high-flow therapy.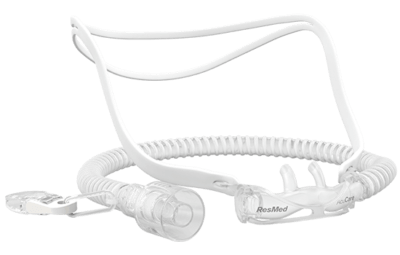 Working together with Lumis HFT
How to buy Lumis HFT
Please contact our Customer Service department or your local representative for more information on obtaining ResMed products.
How-to videos to support your patients
00:01:33
How to set up your Lumis HFT
00:01:46
How to warm up, start and stop your Lumis HFT
00:01:11
Connect or disconnect your supplemental oxygen to your Lumis HFT
00:02:41
Caring for your Lumis HFT
Noise levels are subjective and depend on the chosen flow setting. The device is designed to be quiet*** so people can sleep and speak while it is in use.
Yes. However, it is possible that the therapy will be less effective in the case of mouth breathing.
Lumis HFT records therapy and device data that can be used to monitor usage patterns and therapy duration.​ SpO2 can be measured if the device is paired with an SpO2 monitoring device.
The use of nebulisers is not recommended as the high flow promotes wash out.
Lumis HFT can be used with or without supplementary oxygen.
Up to 15 L/min of supplementary oxygen can be added from an oxygen concentrator with continuous flow or an oxygen cylinder at home or a wall supply in the hospital. If required, additional oxygen (through a separate device) can be prescribed by the physician.
Lumis HFT does not have any alarms but it does have alerts. Some alerts are adjustable (e.g. tub empty) while others are permanently on.
No, invasive use and tracheostomy use are contraindicated for Lumis HFT.
Warm up takes 10-20 minutes depending on the ambient temperature. It is recommended that patients wait until the warm up is complete before starting therapy. The drying mode starts automatically when therapy stops and the device enters standby mode after 90 minutes.
No. Oxygen is added at the oxygen source and mixes with the aspirated air in the device.
The air filter should be changed at least every 6 months. The heated humidifier tub should be changed every 3 months. The air tubing should be changed every 6 months. The tube wrap should be replaced if it becomes worn or damaged.
Patients must weigh more than 30 kg. There are no specific age limitations.
Lumis HFT is designed to be used at room temperature (18-28°C).
Lumis HFT features built-in wireless connectivity and is compatible with AirView. The same AirView account can be used to monitor and manage all of your sleep and respiratory patients. To view HFT patients only, filter "All patients" by type of therapy.
If you are already registered with AirView, please contact your ResMed representative or email support.airview[at]resmed.eu.
If you don't have an AirView account yet, please contact your ResMed representative or register here. If you would like to request a demo first, please contact us.
Device usage and therapy duration as well as SpO2 values**** are shown on charts. Device information and settings are shown on the prescription tab. The patient's personal details and physician information, etc. are shown on the patient details tab.
This content is intended for health professionals only.
Please refer to the user and clinical guides for relevant information related to any warnings and precautions to be considered before and during use of the products.
Lumis HFT is not suitable for life support patients.
Only use nasal cannulas recommended by ResMed.
* AirView was built to be secure and compliant with (EU) 2016/679 (General Data Protection Regulation) and national privacy laws. Our hosting provider in Europe is a third-party company that holds the stringent French ASIP Santé certification as well as the ISO 27001 certification to host medical data.
**Lumis can deliver up to 16 hours of flow at 15 L/min. Refer to the user guide for more information. Set up at Humidity – Level 3, tube temperature 37°C, and ambient temp. 23°C.
*** ClimateLine Air: 38 dBA with uncertainty of 2 dBA / ClimateLine Air and 5 L/min supp. O2: 39 dBA with uncertainty of 2 dBA – As measured according to ISO 80601-2-74:2017 (HFT mode).
**** When paired with the ResMed SpO2 monitor.