Track your PAP therapy with the myAir™ app
Wouldn't it be motivating if you could see that you're making progress on your PAP therapy treatment?
myAir can motivate you to stick with therapy1 by giving you insight into what's going well and helping you to solve minor issues.
Try the myAir app from ResMed, designed for Air10TM PAP therapy devices*.
A smart app to keep you motivated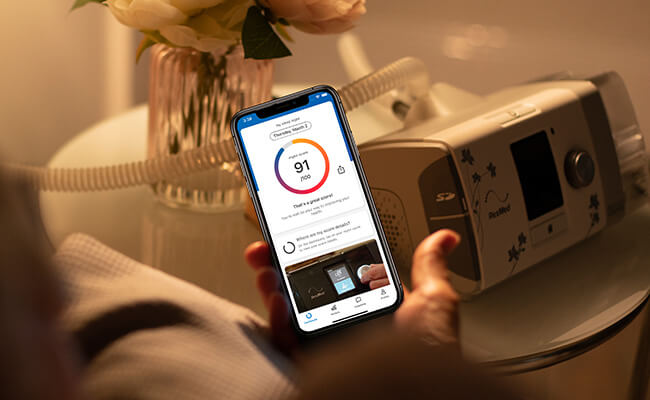 The myAir app gives you access to 'how-to' videos, relevant coaching tips and therapy reports. Every morning, your myAir score shows you useful, motivating information about your sleep and your therapy. It puts progress and improvements at your fingertips.
Real people, real myAir stories
myAir sounds good, but how does it work in real life? Rose, Andy and Paul describe their experiences of being diagnosed with sleep apnoea and explain why they love using myAir to manage their PAP therapy.
These testimonials are genuine and documented accounts of the individual's response to treatment. Outcomes and results may vary, and this individual's response does not provide any indication, warranty or guarantee that other people will have the same or a similar experience. Talk to your healthcare professional for further information.
"myAir tells me what I need to know about my therapy" — For Rose, myAir is a great way to stay up to date and on track with sleep therapy.
"myAir brought me back to life and us back together" — Andy explains why he finds myAir simple to use and effective.
"myAir has changed my life for the better" — Paul shares his experience of using myAir with ASV therapy and his transformation from exhausted to energised.
Monitoring your sleep therapy at home can make it easier for you to stay motivated and on track with treatment. myAir has been designed to allow you to track your therapy, giving you results that tell you how well you're doing and feedback to help you improve. myAir can also help you to solve minor issues you may have.
myAir is a sleep therapy support app that enables you to track your sleep therapy with your AirSense or AirCurve machine*. myAir also helps you to understand your progress, learn how to use your mask and device properly, and troubleshoot common issues independently.
You can use your myAir app to see:
Your myAir score, which is a daily snapshot of your therapy results
Tailored coaching advice and support
Videos, tips and how-to instructions to answer common questions
Encouragement to help you stay engaged and build your confidence
Therapy history and report showing your progress
The myAir mobile app can be downloaded from the App Store® and Google Play™.**
iPhone®: Download the myAir app in the App Store®
Android™ phones: Download the myAir app on Google Play™
myAir is not available as an iPad or Android tablet app.
You can register for myAir by downloading the app to your Apple® iPhone® from the App Store® or to your compatible Android™ smartphone from Google Play™.
Your myAir score tells you how well you slept during your last therapy session: the higher your score, the better you slept. The score is a number between 0 and 100 that's calculated using your nightly therapy data across four categories:
Usage hours
Mask seal
Events per hour
Mask on/off events
myAir is exclusive to ResMed Air10 machines.
Your data is usually available in myAir one hour after you finish a therapy session. If you recently finished a session and your data is not yet available, please check back later. Please note that to use myAir, you need to have access to the data network in order to transmit and receive data. Your therapy device must be plugged into a power source and must not be in Airplane Mode.
If you need help with myAir, please visit the myAir Support page in your myAir app. It has lots of information about using myAir, including FAQs on account, password, data and more.
Please refer to myAir support for relevant information related to any warnings and precautions to be considered before and during use of the product.
References:
*myAir is compatible with ResMed AirSense 10 and AirCurve 10 devices with built-in wireless connectivity. myAir is not available in all countries. Some features of myAir are only available in the myAir app.
Price Waterhouse Coopers. Empowering the sleep apnoea patient. A ResMed-sponsored study of how myAir users behave better. 2016.