Mask cleaning & replacement
To maintain good quality therapy and provide your patients with a comfortable experience, it's important that their CPAP or respiratory care mask and components are cleaned and replaced regularly. Discover why and how.
Mask cleaning
Why is it important that your patients clean their mask?
Each time a patient uses their mask, their skin leaves an oil residue around the seal. Over time, facial oil build-up can accelerate wear and tear on the mask. Masks can also become discoloured with time.
That's why we recommend that your patients clean their masks regularly to ensure optimum therapy.
Your patients should wash their masks daily according to user guide instructions with mild soap or diluted liquid detergent and warm water (30°C/86°F). We also recommend that patients wash their face before bed to remove excess facial oils, ideally with a pH neutral soap, and avoid using facial lotions and creams where the mask comes into contact with their face. These products may interfere with mask seal and potentially degrade the quality of the cushion over time.
How should my patients clean their masks?
Refer your patients to their specific mask user guide for detailed instructions on cleaning their mask. The following cleaning instructions apply to most masks:
Every day, or after each use, patients should:

Disassemble the mask components (refer to the mask user guide for instructions). Patients using a nasal pillows mask should disassemble the pillows from the frame. 

Thoroughly handwash the separated mask components (excluding headgear and soft sleeves) by gently rubbing in warm water (approximately 30°C/86°F) with mild soap. To optimise the mask seal, facial oils should be removed from the cushion after use. 

Use a soft bristle brush to clean the vent, or any rotating parts on your mask such as the swivel, swivel ring or ball joint that require cleaning. 

Inspect each component and, if required, repeat washing until visually clean. 

Rinse all the components well with drinking-quality water and allow to air dry out of direct sunlight.
Every week, patients should:

Hand wash the headgear, including the soft sleeves if these form part of your mask.

Rinse well and allow to air dry out of direct sunlight.

Please note that the headgear can be washed without being disassembled and that the dye used in the headgear may run during the first wash. If any component remains unclean after cleaning, or if there is visible deterioration of a system component (cracking, discolouration, tears, etc.), that component should be replaced.  
We recommend that your patients use natural or pure products/solutions to clean their mask, as the residual vapours that are left behind from non-natural cleaners can be inhaled if not rinsed very thoroughly.
Why and how often should my patients replace their CPAP mask cushion?
Like any piece of clothing or accessory, mask cushions become worn out over time. An old mask is more likely to leak, while old headgear may lose its elasticity, leading to over-tightening and discomfort. Using a mask that's in good condition will help your patient to enjoy comfortable, effective therapy every night.
The life of a mask cushion depends on various factors, such as how often your patient wears it, skin type (dry, oily, etc.), and how often the mask gets cleaned. Because the mask replacement schedule is unique to each patient and type of mask, we highly recommend that patients inspect their mask according to the cleaning and maintenance routine outlined in the user guide supplied with the mask. It contains guidelines to help you and your patient to inspect, assess and replace the different mask components.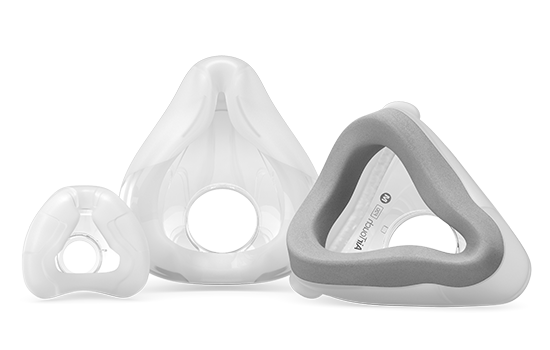 How can I tell that it's time for a replacement?
If any part of the system shows signs of deterioration (cracking, crazing, discolouration, tears, cushion damage, etc.), that component should be discarded and replaced.
In general, it might be time for your patient to replace the mask or some of its component parts if:
Your patient has to tighten the straps very frequently
The mask feels stiff, instead of soft and springy
Your patient feels the treatment may be less effective than usual
The mask cushion is slippery even after it's been cleaned
The mask cushion is no longer clear and transparent
The mask cushion and frame show signs of wear, stiffness, cracks or breaks
Because the replacement schedule is specific to each mask and each patient, we highly recommend reading the mask user guide for detailed information.