A small, light, comfortable1 oral appliance that's discreet, easy to use2 and custom-made for you. Narval CC is a clinically-proven1,3,4 solution to treat obstructive sleep apnoea (OSA) and snoring. 70% of users stop snoring.5
Not available in England, Wales and Scotland.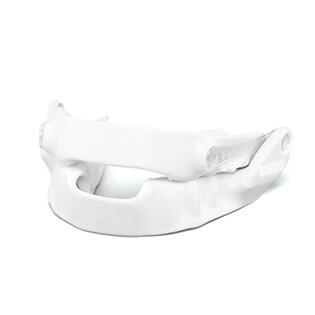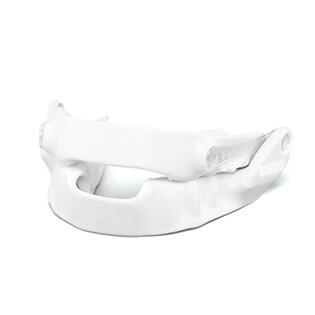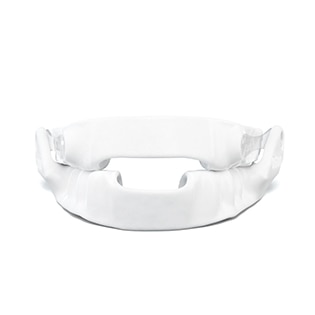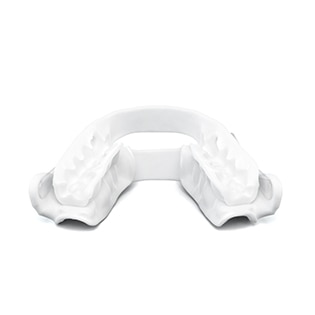 Is the Narval CC oral appliance for you?
Narval CC is an oral appliance that will appeal to adults who want a non-invasive solution to their chronic, loud and bothersome snoring. It's also a proven solution for those who seek an alternative to positive airway therapy (PAP) therapy for treating mild to moderate obstructive sleep apnoea (OSA), or even severe OSA if you've demonstrated that you are unable to use CPAP devices.1,2,3,4 Your sleep physician will guide you to make the right therapy choice.
Big ideas in a small device
Small: Narval CC snugly covers your teeth so takes up just the space it needs in your mouth – and no more. It gives your tongue more room, which allows it to maintain its natural movements.
Lightweight and strong: Narval CC is made of a resilient, durable5 polymer. It's very lightweight, unlikely to break or leak, and has been designed to be strong enough to resist teeth grinding.6
Biocompatible7: Narval CC is not made from latex, paraben or bisphenol A, either, so you're less likely to develop allergies.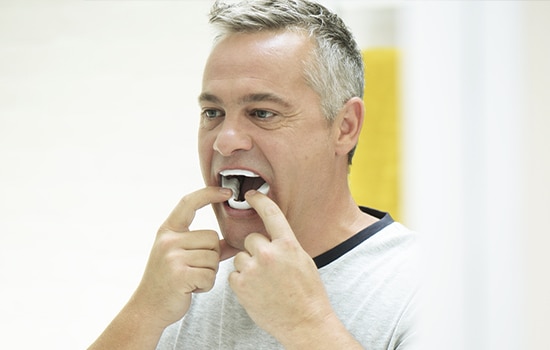 Easy to adopt: Narval CC may take a few nights to get used to, but it's easier than you think. A full 86% of patients wear their Narval CC every night.1
Discreet: It doesn't make noise, it's the same colour as your teeth, and is so discreet, your partner will hardly notice you're wearing it.
No batteries or cables required: You don't need to plug in Narval CC, recharge it, or worry about batteries. Just pack it up and bring it with you wherever you go.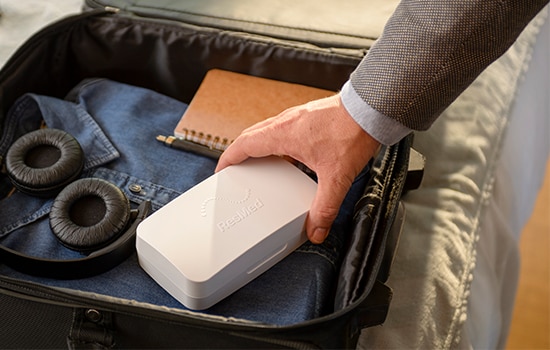 Only minutes of effort for hours of sleep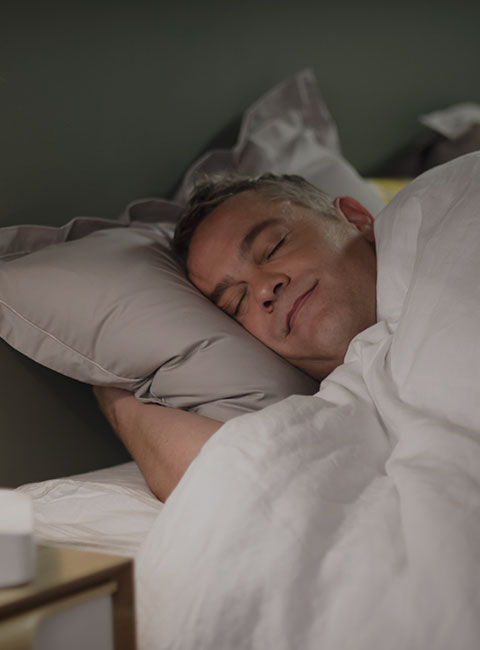 Regular use means success: almost 90%1 of patients who use it stop snoring. Yes, that's correct: they completely stop snoring.
Plus, almost 80%1 of people who used Narval CC to fight their sleep apnoea — including those with more severe cases of obstructive sleep apnoea (OSA) — saw their Apnoea-Hypopnea Index (AHI) decrease by more than 50%.1
Some two-thirds (66%)1 of users saw their AHI levels not only decrease, but fall below 10 — meaning their OSA had all but disappeared.
What to expect when you choose Narval CC
Once your physician has helped you choose MRD therapy over PAP, a specialist dentist will be able to confirm if you are indeed a suitable candidate for Narval CC. They will carefully examine your mouth, and if there are no contraindications and no issues like missing teeth or major dental work to be performed, they will take a quick imprint and some measurements of your mouth.
Once ResMed receives these imprints we will use computer-aided design and manufacturing to produce an oral appliance that's created uniquely for you. ResMed is today one of the few companies to use such a high-tech process for oral appliances.
Your Narval CC oral appliance therapy system is made up of two custom-made splints – one for your upper jaw and one for your lower jaw – and two connecting rods that hold the splints together.
To keep your oral appliance in optimal condition, we recommend that you clean it as follows:
After each night you use the device
Immerse in lukewarm drinking quality water (e.g. in a clean glass or container).
Clean the Narval appliance with a denture brush, making sure to brush the inside surface of the Narval appliance for at least 1 minute. A denture brush typically offers two different brush heads. The smaller brush with angled bristles allows for cleaning the inner surfaces of the Narval appliance, while the larger brush allows for cleaning the outer surfaces.
Rinse well with clean, lukewarm drinking quality water.
Carefully inspect the Narval appliance to confirm it is visibly clean (e.g. no visible particles remaining on the device). If necessary, clean the device again, repeating steps 1 through 4.
Once clean, dry the Narval appliance with a clean tissue or towel and place it back in its storage box.
Twice a week
Clean your Narval appliance more thoroughly, using an antibacterial denture cleanser designed for orthodontic appliances:
Read the instructions of the antibacterial denture cleanser carefully before use.
Clean your Narval appliance following the instructions provided by the cleanser manufacturer.
Rinse the Narval appliance well with clean, drinking quality water.
Dry the Narval appliance with a clean tissue or towel and place it back in its storage box.
Over time the splints of your Narval appliance might change colour. This may be due to the acidity of your saliva and how well you take care of your Narval appliance. This will not affect its performance.
Regular follow-up is the best way for you and your healthcare team to monitor your sleep health.
Your Narval CC™ oral appliance is made precisely to fit your specific needs, and your dental sleep clinician will adjust the settings to suit your treatment requirements. Over time, however, those needs might change, and your settings might need to be changed as a result. Follow-up allows your clinician to see how you're responding to your therapy and adjust it to optimise efficacy and compliance, so you can continue to get the most out of your treatment.
If you stop feeling the benefits of treatment even though you use your equipment every night, you should speak to your care provider as soon as possible.
Love to go camping and enjoy the outdoors? It's easy with Narval CC. Toss your appliance in it's storage container and off you go! Just remember to bring your denture cleaning brush to clean the Narval appliance after each time you use it and an antibacterial denture cleanser designed for orthodontic appliances if you'll be away for more than a few days.
References:
Attali V & al. Efficacy and tolerability of a custom-made Narval mandibular repositioning device for the treatment of obstructive sleep apnea: ORCADES study 2-year follow-up data. Sleep Med. 2019 Nov;63:64-74.
Castel M & al. Mandibular advancement device in Parkinson's disease: a pilot study on efficacy and usability. Sleep Med. 2019 Aug 30;66:78-8.
Vecchierini MF et al. A custom-made mandibular repositioning device for obstructive sleep apnoea-hypopnoea syndrome: the ORCADES study. Sleep Medicine 2016 Mar; 19:131-40.
Vecchierini MF & al. Late Breaking Abstract – Efficacy and tolerability of a custom-made mandibular repositioning device (MRD) for the treatment of obstructive sleep apnea (OSA): ORCADES study 5-year follow-up data, European Respiratory Journal 2019; 54: Suppl. 63, OA3272.
ORCADES study – 3-6 months, 2 years and 5 years results ppt. Obj ID : C280034.
Internal data, confidential. Simulation computer study of mechanical solidity of the CAD/CAM Narval CC oral appliance; Narval splints can withstand compression forces superior to 500N.
Appropriate level of biocompatibility demonstrated by tests based on indications in ISO 10993-1:2009