Treating your OSA with an oral appliance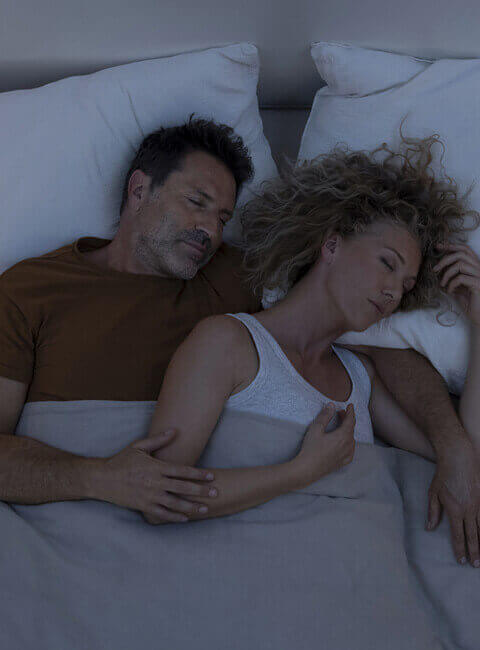 A sleep apnoea diagnosis doesn't always mean you need CPAP therapy. That's because there's another effective solution:1 the Narval CC oral appliance. Narval CC is a proven treatment for mild-to-moderate obstructive sleep apnoea (OSA) and snoring. It's also a recognised second-line therapy if you have severe OSA and require an alternative to CPAP.1
Narval CC not available in England, Wales and Scotland.
How do oral appliances work?
Oral appliances are usually recommended to treat mild-to-moderate forms of sleep apnoea. They reduce the symptoms and effects by holding the lower jaw in a forward position to widen the space behind the tongue in the pharynx (throat). This reduces vibration and stops your airway from becoming obstructed.
Oral appliances are mostly used to treat obstructive sleep apnoea. They can be helpful if you snore.
ResMed's custom-made Narval CC oral appliance is clinically proven to be an effective treatment for snoring and obstructive sleep apnoea.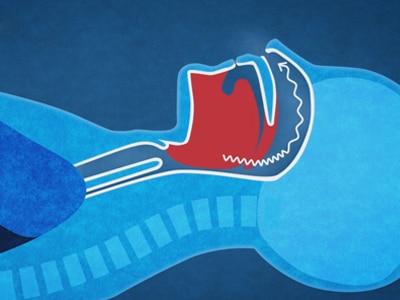 Without Narval:
pharynx is collapsed and airflow is blocked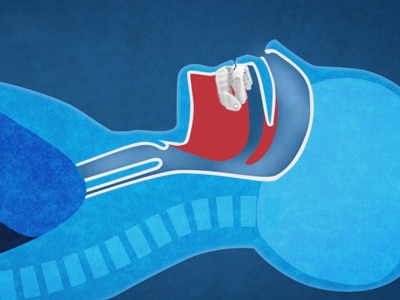 With Narval:
pharynx is open and air flows freely
What are the benefits of an oral appliance?
Snoring disappears
After 3 to 6 months, loud snoring disappeared in almost 90% of people who used ResMed's custom-made Narval CC oral appliance.2 Having a reliable way to stop snoring could help you enjoy better sleep, have a positive impact on your relationship and help you feel more confident.
Reduction of OSA symptoms
Narval CC reduces sleep apnoea symptoms and improves quality of life. Almost two thirds of OSA patients stopped feeling tired during the day after 3 to 6 months of using Narval CC.2
High patient satisfaction
Patients feel positive about Narval CC. In one study exploring patient satisfaction after five years of therapy, 97% of Narval CC patients wanted to carry on with Narval CC. They rated their overall satisfaction level at 8/10.1
Why should I choose a Narval CC appliance?
The Narval CC oral appliance is custom-made to precisely fit your teeth and jaw. It is small, discreet and easy to use, including on holiday. You can talk, drink and open your mouth naturally when you wear it. It is biocompatible, made from polyamide to limit the risk of allergy and does not contain any metal or latex. It's also strong: Narval CC can resist forces similar to those generated by bruxism (jaw clenching).3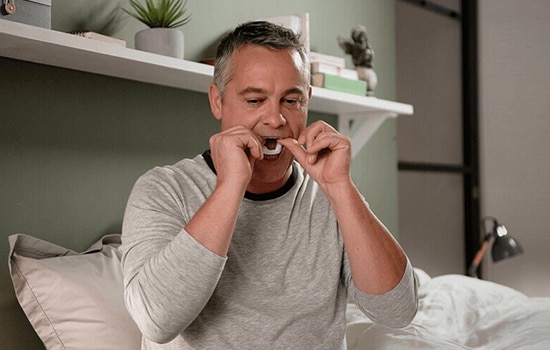 References:
Please refer to the user guide for relevant information related to any warnings and precautions to be considered before and during use of the product.
Vecchierini MF, Attali V, Collet JM, et al. Mandibular advancement device use in obstructive sleep apnea: ORCADES study 5-year follow-up data. J Clin Sleep Med. 2021;17(8):1695-1705. doi:10.5664/jcsm.9308.
Vecchierini MF et al. A custom-made mandibular advancement device for obstructive sleep apnoea-hypopnoea syndrome: the ORCADES study. Sleep Medicine 2016 Mar; 19:131-40.

The ESS score decreased at 3-6 months from 11.2 +/- 4.8 at baseline to 7.8 +/- 4.3 during MRD therapy; p < 0.0001). 62% of participants with excessive sleepiness at baseline had complete symptom resolution.
Quality of life improved at 3-6 months (+29% increase in Quebec sleep questionnaire scores).
62% of patients with OSA stopped feeling tired during the day after 3 to 6 months of therapy.

Compression tests – ResMed internal report C258999, May 2018 – Chapters 8 & 9: Narval splints withstand compression forces of 500 N.