AirFit F30i: Measuring for your mask at home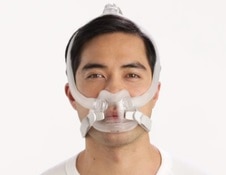 August 6th 2020
A comfortable CPAP experience could help you stay on track with therapy and lead to better sleep, so choosing a mask that helps you achieve this is important. With the Covid-19 pandemic changing the way healthcare is accessed and more appointments happening online, how can you go about choosing the right mask once you've received a CPAP prescription from your doctor and discussed mask options? To help out, we have some resources to support you in your size choice and achieve an effective fit from home.
In this article, we'll focus on the AirFit F30i, a tube-up full face CPAP mask designed with natural sleep in mind. The top-of-the-head tube allows you to move freely and sleep in any position[i] – even on your belly! – while an under-the-nose cushion eliminates the risk of red marks on the nasal bridge and gives you the opportunity to read in bed or watch a movie while wearing your mask. If this sounds like the mask for you, check with your healthcare professional to make sure it meets your therapy needs, then read on to find out how to use our sizing template and discover handy tips for achieving a good fit.
Measuring for your AirFit F30i mask cushion
A fitting template for the Airfit F30i CPAP mask is available as a download here. Once downloaded, it can be printed out in either colour or black and white, so don't worry if you don't have a colour printer.

Using the template:
1. Ensure the template is printed to scale – you can check this using the ruler image on the right of the printout
2. Cut along the dotted line using a pair of scissors
3. Now, line up one of the size reference images (labelled S, M, SW, W) below your nose. The paper should be touching the skin of your upper lip and the image facing upwards as shown on the template
4. The sides of your nostrils and tip of your nose should not exceed the dotted lines of the sizing area. If they do, you'll need the next size up, so try aligning your nose with a different sizing area until you find one in which your nose can comfortably fit.
Cushions in sizes S, M and W are available as part of a starter pack in our online shop. If you find that a SW cushion suits you best you will need to order your cushion as a spare part.
Measuring for your mask frame
Getting the right fit for your frame is essential in order to achieve effective mask seal – and a restful night's sleep! To help you decide whether you need a Small, Medium or Large frame you can use our AirFit F30i fitting guidelines. Accurate measurement is important, so you'll need a flexible tape measure on-hand.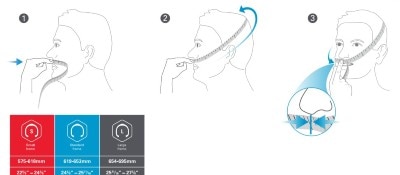 Although we offer AirFit F30i starter packs for hassle-free buying, you may wish to mix and match your cushion and frame size, particularly if you need a Large frame. In this case, it's best to order your frame as a spare part.
Once you received your mask, make sure you read the user guide for full product information and usage instructions.

What's next?
Now that you've chosen your mask cushion and frame size, you're ready to order! Use your measurements to buy online or share this information with your healthcare professional to discuss. If you need further advice, just get in touch with our customer services team who are more than happy to help. Sweet dreams!