How can I avoid my PAP mask leaving red marks on my face?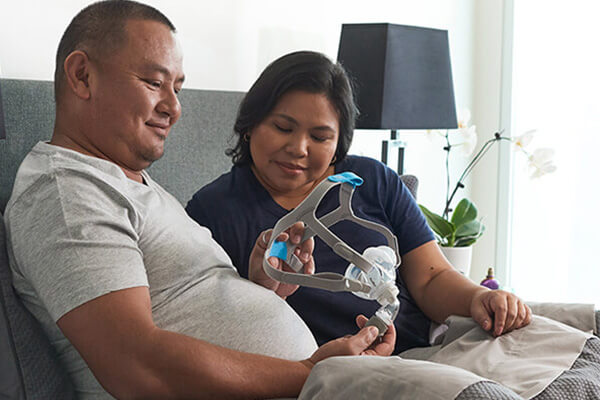 March 31st 2022
Let's imagine the scenario. You've had a decent night's sleep thanks to your CPAP machine. You wake up feeling refreshed and ready to tackle whatever challenges the day is going to throw your way. You go to wash your face or brush your teeth and notice something as you glance in the bathroom mirror: red marks. Wearing your mask all night can sometimes leave marks on the bridge of your nose or on your forehead. They wear off soon enough but still, it's something you could do without. So, how can you avoid them? There are several paths to waking up both energised and blemish-free. Let's take a look.

Avoid over-tightening your mask
It's possible that the marks on your skin are caused by a mask that's too tight around your head and face. There's no need to pull the headgear straps very tightly as the mask cushion will inflate slightly once the air starts coming through it and you'll reach the seal that you'll need. So, leave your mask a little leeway to expand during therapy. Allow the mask to rest snugly on your face rather than pulling it so tight that it leaves an impression on your skin.
Please make sure you follow the fitting instructions in your mask user guide in order to fit your mask correctly.

Get pads that are designed to protect the skin around your nose
If loosening the mask doesn't do the trick, there are other potential fixes for the problem. One temporary solution is to use nasal pads that come separately from the PAP mask. Good options are polymer gel pads. You stick the transparent pads to the bridge of your nose just before putting on your mask and they prevent the silicone of the cushion from coming into direct contact with your skin and leaving those pesky red marks. The pads are simple and painless to apply and take off and they'll protect the bridge of your nose while you sleep.

Try using memory foam cushions
Another way to avoid soreness, irritation or red marks is to get a mask – or an extra cushion to fit into your current mask – that replaces the silicone with a softer material. Memory foam is a good alternative material if you have sensitive skin. A memory foam cushion acts as a buffer that is designed to mould to the unique contours of your face. It's a softer, breathable material that not only feels lighter against your skin than silicone but might also be less likely to cause red skin marks.
One advantage of this solution is that you can change the cushions without changing your mask, as long as they are compatible.* You can alternate between silicone and memory foam cushions, giving yourself the option of extra comfort whenever you decide you need it.

Try a different type of PAP mask
If gel pads and memory foam cushions don't appeal to you, you could consider changing your mask. Red marks generally appear on the bridge of the nose or on the forehead, so you can tackle the problem by choosing a mask that doesn't touch those parts of your face.
If your mask leaves red marks on the bridge of your nose, there are more minimalist masks on the market that sit under your nose, avoiding both the forehead and the nasal bridge.

Solutions for a wide range of PAP patients
So, whether your PAP therapy calls for a traditional mask or a more discreet, minimalist version and whether you have rugged or sensitive skin, there are a number of solutions that can help to keep those red marks away.
In their absence, the face looking back at you in the mirror should be that much fresher!