Why is it important to track your sleep during CPAP therapy?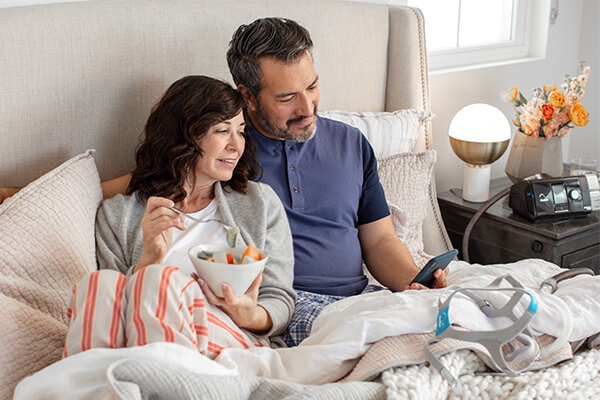 May 4th 2023
Have you ever wondered how well your CPAP sleep therapy is actually working? Well, you're certainly not the only one. CPAP therapy can be a difficult proposition for beginners as well as those who have been on the treatment for some time. As we will see, the reasons to check if your sleep apnoea therapy is still working are numerous.

Why should I track my sleep therapy?
Have you ever wondered if your sleep apnoea therapy was working while you were traveling or changed your sleep environment? Did a new mask affect the quality of your treatment or cause extra leaks? Has your apnoea-hypopnea index (AHI) changed since you started your therapy? These are all questions tracking your sleep apnoea therapy may help to resolve.
So, if you've felt more tired than before after a change in your sleep apnoea treatment, it may be time to track your therapy to help improve the quality of your sleep. For example, patients who use the ResMed sleep apnoea tracking app have even been recorded to use their CPAP device an average of 46 minutes more per night than other patients1.
As one user said, 'I put this ResMed [device] and this myAir app down to possibly saving my life' 2. Read on to see how you can track your sleep during CPAP therapy, how the apps work, and how to get your very own sleep apnoea tracking app.

How do sleep apnoea therapy apps work?
By using a sleep apnoea tracking app you'll be able to receive plenty of useful information about how well your CPAP therapy is working and any significant changes to your sleep pattern. ResMed's free CPAP therapy app myAir has several practical functionalities including:
The ability to track your data at a simple glance via stats and a myAir score from the night before to see how you've slept. The myAir score is created via information about your device usage hours, mask seal, events per hour (AHI), and how many times you take off your mask per night.
myAir acts as a partner to your CPAP therapy by providing tailored coaching emails with helpful information about how to improve your treatment, as well as regular encouragement and congratulatory messages when you reach therapy milestones.
Along with useful data and a personalised coaching program, the free myAir app can also act as a great sleep tool by giving you direct access to a sleep library. This library contains a multitude of materials to help you on your sleep journey including how-to instructions, videos and other support materials.

How do I get a sleep apnoea tracking app?
To find a sleep apnoea tracking app for your specific device, enter the brand name of your device on the App Store or Google Play Store to see the suitable options for you. For example, in order to download the ResMed sleep tracking app, simply enter 'ResMed' in your online app store and you'll find myAir.
Signing up for a sleep apnoea tracking app such as myAir is a simple process requiring only a few simple steps. After a quick registration process, you'll be able to track and monitor your CPAP therapy using all the handy tools and advice found in the free app.
myAir could be that helpful sleep therapy tool you've been looking for and as one of our users said, "myAir brought me back to life and us back together"2. Is it time for you to start tracking your CPAP therapy? myAir is here to help and may be a good way to help you better understand your sleep apnoea and to improve the quality of your life, as well as your loved ones.