ASV offers clinical benefits*
Compared to other forms of PAP therapy, ASV offers significant benefits for the treatment of central SDB* – including improvement of AHI, reduction of respiratory events and alleviation of daytime sleepiness.
Who is ASV* therapy suitable for? 
Any patient with Left Ventricular Ejection Fraction (LVEF)>45% is eligible for ASV.1,2,3,4
We can confirm that the observed mortality risk in the SERVE-HF study occurs in patients with LVEF ≤45% and that the harmful effects of ASV correlate with pre-existing LV systolic impairment.5
Reduced LVEF should be excluded before starting ASV.1
Before using ASV, it is important to ensure that LVEF is >45%.
Echocardiography is recommended for this purpose.
Experts statements1,2,3,4 and healthcare authorities agree that patients with LVEF>45% remain eligible for ASV when there is a clinical rationale for using it. ASV is eligible in these different situations: 1,2,3,4
– Heart failure with preserved ejection fraction
– CSA associated with long-term opioid therapy without alveolar hypoventilation
– Idiopathic CSA or Cheyne-Stokes Respiration
– Complex/Emergent/Resistant CSA
– CSA after ischemic stroke.
Since May 2015, the French and German healthcare authorities have agreed to limit the contra-indication to heart failure with reduced EF ≤45%.4
Find out more about the ResMed device that delivers ASV therapy: AirCurve 10 CS PaceWave
ASV better than CPAP at controlling respiratory events in patients with CompSA
In an intention-to-treat analysis, success (apnoea hypopnoea index [AHI] < 10) at 90 days of therapy was achieved in 89.7% of patients treated with ASV versus 64.5% of participants treated with CPAP.6
[N = 66, prospective randomised trial]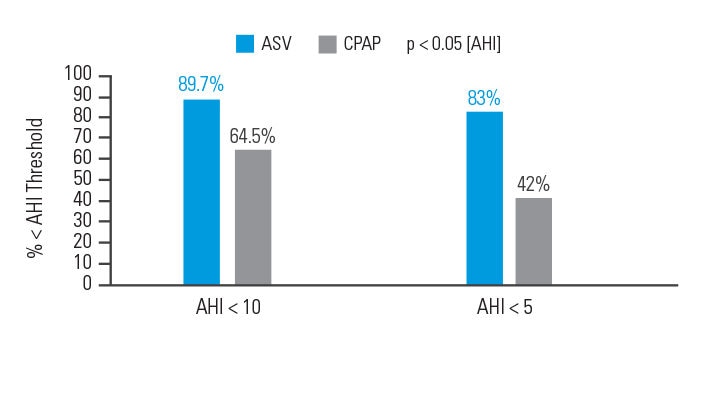 ASV decreases residual sleepiness after APAP therapy in patients with mixed sleep apnoea
After 30 days of APAP treatment, ASV provided a further reduction (compared to baseline) of 12.9% in AHI, 48.5% in central sleep apnoea index (CSAI), 26.1% in micro-arousal index (MAI), and 37.9% in Epworth Sleepiness Scale (ESS) score at similar mean pressure.7
[N = 42, sequential study]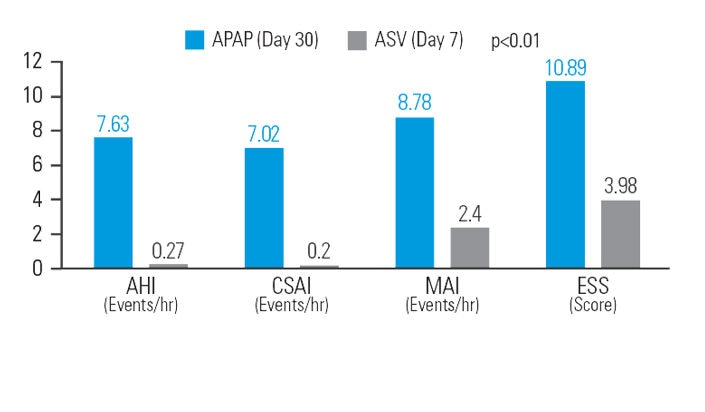 ASV better than bi-level ST at reducing respiratory events in opioid-induced CSA
In opioid-induced CSA, ASV therapy reduced AHI by 84.7%, central apnoea index (CAI) by 95.7%, Apnoea Index (AI) by 96.4%, and respiratory arousal index (RAI) by 77.1% when compared to bi-level ST. Respiratory parameters were normalised in 83.3% of patients on ASVAuto but only 33.3% of patients on bi-level ST.8
[N = 18, prospective, randomised crossover polysomnography study]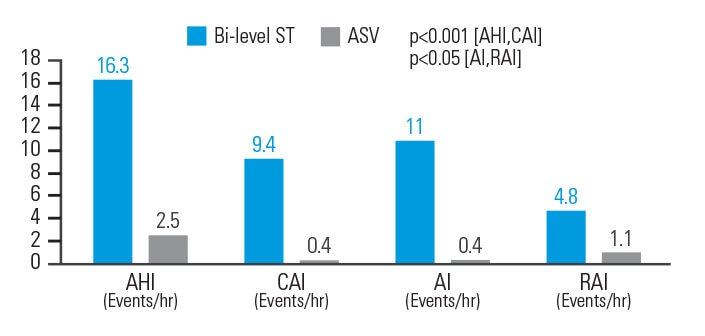 ASV improves AHI and ESS in post-acute ischemic stroke patients
ASV therapy improved outcomes for post-acute ischemic stroke patients with CSA, reducing AHI by 81.8% and ESS by 35.6%.9
[N = 15, single centre retrospective analysis]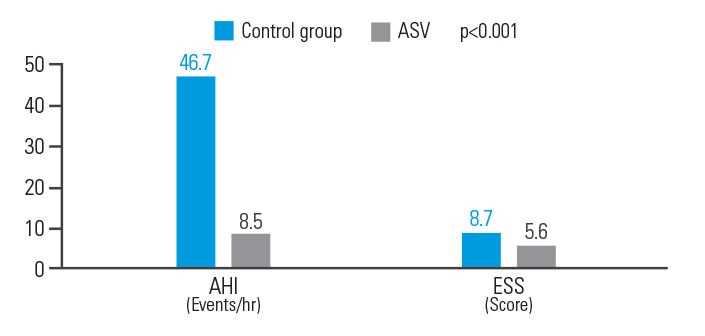 ASV improves cardiac output and prognosis in heart failure with preserved ejection fraction*
Prospective randomised and observational heart failure studies (already presented and shortly to be published) have suggested that ASV may be beneficial in heart failure patients with preserved ejection fraction and in those who have CSA with coexisting obstructive sleep apnoea.10 Currently there is no evidence that these patients would be at any risk of harm from ASV therapy.
ASV videos: watch experts talking about ASV therapy.
How to treat your patients with central sleep apnoea?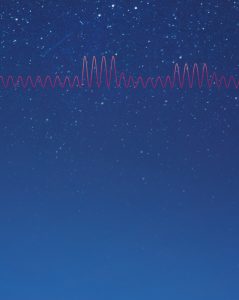 Discover how ResMed Adaptive Servo-Ventilation (ASV)* solution promotes harmony, safety and comfort.
References:
* ASV therapy is contraindicated in patients with chronic, symptomatic heart failure (NYHA 2-4) with reduced left ventricular ejection fraction (LVEF ≤ 45%) and moderate to severe predominant central sleep apnoea.
d'Ortho et al. European Respiratory & Pulmonary Diseases, 2016;2(1):Epub ahead of print. http://doi.org/10.17925/ERPD.2016.02.01.1.

Priou P & al. Adaptive servo-ventilation: How does it fit into the treatment of central sleep apnoea syndrome? 

Expert opinions. Revue des Maladies Respiratoires, 2015 Dec, 32(10):1072-81.
Aurora RN & al. 

Updated Adaptive Servo-Ventilation Recommendations for the 2012 AASM Guideline: "The Treatment of Central Sleep Apnea Syndromes in Adults: Practice Parameters with an Evidence-Based Literature Review and Meta-Analyses". Journal of Clinical Sleep Medicine, 2016 May 15, 12(5):757-61.
Randerath W et al. ERJ Express. Published on December 5, 2016 as doi: 10.1183/13993003.00959-2016. 

 
AirCurve 10 CS PaceWave clinical manual July 2015.

 
Morgenthaler et al. The Complex Sleep Apnea Resolution Study, Sleep, Vol. 37, No. 5, 2014. 

 
Su et al. Adaptive pressure support servoventilation: a novel treatment for residual sleepiness associated with central sleep apnea events, Sleep Breath, 2011;15:695-699. 

 
Cao et al. A Novel Adaptive Servoventilation (ASVAuto) for the Treatment of Central Sleep Apnea Associated with Chronic Use of Opioids, Journal of Clinical Sleep Medicine, Vol. 10, No. 8, 2014. 

 
Brill et al. Adaptive servo-ventilation as treatment of persistent central sleep apnea in post-acute ischemic stroke patients, Sleep Medicine 15, 2014;1309-1313.

 
Bitter T et al. Eur Respir J 2010; 36: 385–392 06 Yoshihisa et al. 

European Journal of Heart Failure doi:10.1093/eurjhf/hfs197