COVID-19 FAQs
Looking for ResMed information on COVID-19 ? Discover our regularly updated FAQ page. If you need more answers, you can contact our customer service team and submit your questions.
FAQ - Responses to patient questions about coronavirus
myAir: free CPAP therapy coaching for sleep apnoea patients during the Covid-19 crisis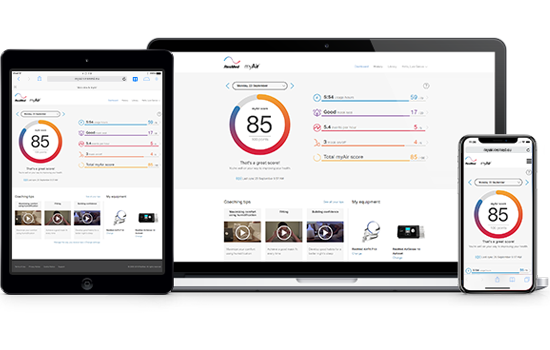 It's easy to register:
Create account. Click "Create account" on myAir.resmed.eu and fill in the required fields. Remember your username and password – you'll need them to complete the registration process!
Activate your account. Check your inbox – you should receive an email from myAir asking you to activate your account. Click on the link in the email, then follow the prompts to enter your email address and password. If you can't see an activation email in your inbox, please check your spam folder.
Add your equipment. Follow the prompts on screen to enter the serial and device numbers for your Air10 machine – you'll find them on the back of your device – and information about your mask. If you don't have your CPAP equipment right now, you can complete your registration later.
Get started! Congratulations – you're ready to start your myAir experience! Check your myAir score each morning to track your sleep therapy progress!
For help with the myAir website (such as questions about your account, password or data), visit this page.