AirMini™
Portable CPAP therapy device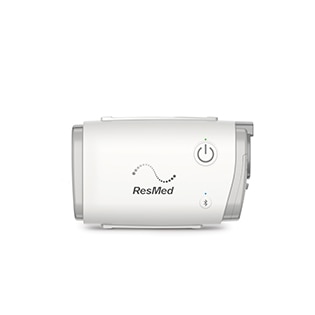 Small and smart sleep apnoea device with proven algorithms for compact, portable therapy.1-4 AirMini features HumidX waterless humification, ActiveAir technology and powerful AutoSet and AutoSet for Her algorithms. The world's smallest CPAP* is ideal for travel and pairs with a convenient app for easy set up and ongoing support.
Product code: AirMini starter kit without mask (3811092)
Small
Let your patients travel with therapy. In total size, AirMini is the smallest CPAP device ever brought to market*.
Smart
Connect your patients to success. The AirMini app allows your patients to tailor their comfort settings and view their therapy progress easily. They can also allow you to follow up on their progress by sending their detailed therapy data to AirView.
Proven1-4
Support your patients with confidence. AirMini features the same established algorithms as ResMed's AirSense 10 series of sleep therapy devices.
ActiveAir technology
ResMed designed the innovative ActiveAir venting technology to minimise vent flow and enable the delivery of efficient therapy performance.
The HumidX™ waterless humidification can be inserted between the mask and the tube, allowing it to capture the air's warmth and humidity before it escapes through the tube's built-in vent.
As simple to use as it is innovative, HumidX requires no water or electric power. Instead, its unique Heat and Moisture Exchange (HME) technology works in synergy with the built-in vent to maintain heat and moisture levels as a patient breathes in or out.
Optimised performance from device to mask
AirMini's technologies have been developed exclusively alongside ResMed's latest range of masks, the 20 series of full face and nasal masks, as well as the AirFit P10 for AirMini nasal pillows mask.
This means you can help your patients tailor their experience to suit a wide range of therapy, lifestyle or travel needs while providing the level of quality therapy you have come to expect from ResMed.
Stay connected
The AirMini app allows you to manage your patient's settings and stay up to date with their therapy progress through AirView.
With instructional materials and customisable comfort settings just a few clicks away, patient setup and ongoing support is easier than ever.
Accessories for every lifestyle
A range of optional accessories allow your patients to enjoy even more flexibility.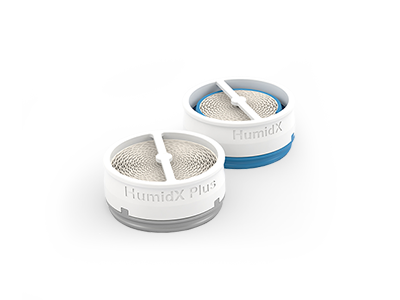 HumidX system
Exclusive to AirMini, HumidX and HumidX Plus are small heat and moisture exchangers (HME) that are designed to provide comfortable and effective humidification.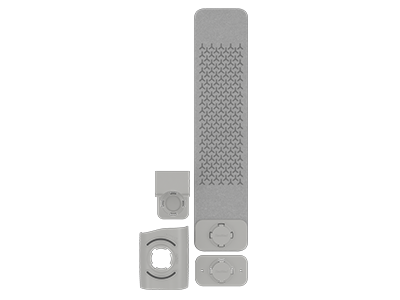 AirMini mount system
The ResMed mount system allows the AirMini device to be secured to various points such as a bedframe, bedside table, wall or airplane seat pocket.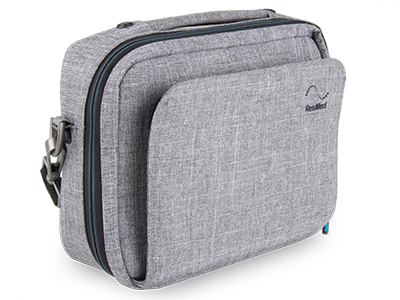 AirMini travel bag
Take your sleep therapy everywhere you go with the AirMini travel bag. Small and compact, it'll fit the whole solution to keep everything together, so it's always ready when you are.
Buy online
ResMed Online Store is the one-stop-shop for sleep professionals, with immediate access to pricing, shipping and invoice details. Contact your ResMed representative to create an account or sign in to start buying and tracking ResMed products.
Warranty & services
Looking for service and warranty information on the AirMini portable CPAP therapy device?
Find the answers to your questions in our resource centre.
References:
*As of the 6th February 2020.
Netzel et al. APAP device technology and correlation with patient compliance. Somnologie – Schlafforschung und Schlafmedizin 2014; DOI: 10.1007/s11818-014-0662-0.
Isetta et al. Comparative assessment of several automatic CPAP devices responses: a bench test study. ERJ Open Res 2015;1:00031-2015.
Zhu et al. All APAPs are not equivalent for the treatment of sleep disordered breathing: a bench evaluation of eleven commercially available devices. J Clin Sleep Med 2015 11(7):725-34.
Isetta et al. Novel Approach to Simulate Sleep Apnea Patients for Evaluation Positive Pressure Therapy Devices. PLoS ONE 11(3): e0151530.doi:10.1371/journal.pone.0151530.