myAir, sleep therapy data tracking and coaching tool
myAir is a motivational data tracking and coaching programme that's designed to build your patients' sleep apnoea therapy skills and confidence. myAir encourages patients to engage with their therapy, leaving you with more time to focus on complex cases.
Build patient confidence with myAir
Your patients are empowered to:
Track and understand their sleep therapy
Benefit from coaching and tailored tips
Consult educational and self-help tools
Rose, Andy and Anthony share their experience of using myAir
Rose, 75 years old
"myAir tells me what I need to know about my therapy" – myAir keeps Rose up to date and on track with her sleep therapy.
Andy, 47 years old
"myAir brought me back to life and us back together" – Simple to use and good results: Andy tells his myAir story.
Anthony, 50 years old
"myAir has changed my life for the better" – Exhausted to energised: Paul's life-changing experience with ASV therapy.
Devices that are compatible with myAir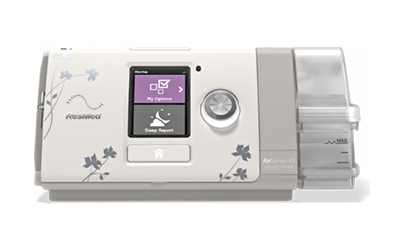 AirSense 10 AutoSet for Her
Auto-adjusting pressure therapy device for women
Reference:
1. Price Waterhouse Coopers. Empowering the sleep apnoea patient. A study of how myAir users behave better. 2016