Travelling with your CPAP equipment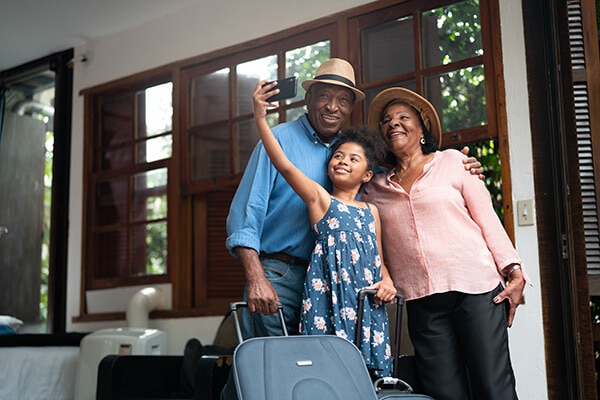 April 22nd 2022
Whether you're on a city break, a dream holiday or a business trip, you should take your PAP therapy equipment along for the ride. After all, sleep apnoea never takes time off! To help you enjoy a hassle-free, well-rested trip, we've pulled together our favourite advice and tips on travelling with CPAP. Frequent travellers might prefer to invest in a travel-specific, pocket-sized PAP device, but we think it's possible to enjoy a positive experience with your normal PAP equipment too. Here are our suggestions for straightforward CPAP-friendly travel.

PAP travel by air
If you're flying, make sure your PAP equipment is packed in your hand luggage: you don't want it to get damaged in transit. You're allowed to take your device through security control at the airport, although we do recommend taking a copy of the manufacturer's FAA Air Travel Compliance Letter with you, just in case.
If you're taking a long-haul flight, how about getting some sleep on the plane so you're refreshed when you land? Here's what to do:
Contact the airline at least two weeks in advance to ask for permission to use your PAP medical equipment during the flight. If you receive permission in writing, remember to take the letter or email with you when you fly.
If the airline requests additional information, send them a copy of the FAA Air Travel Compliance Letter for ResMed devices. This letter is a formal aviation authority statement that a device is suitable for use on aircraft.
Ahead of your flight, request a seat near a power socket. Ask which type of power cord or adaptor you'll need to plug in your device on the plane (and remember to pack it before you leave!).

PAP travel by land
If you're choosing to travel by train, bus or coach, contact the operating company in advance to ask if a suitable power source will be available. If there isn't a fixed power supply, you can use one of the battery packs that ResMed recommends instead. Your device user guide contains information on compatible battery packs and your healthcare provider should also be able to advise you.
If you're holidaying in a caravan or motor home, you should be able to use the vehicle battery to operate your device (just be careful you don't drain it!). Before you leave, make sure the vehicle battery will have sufficient capacity and take a converter so you can connect up your device (check your user guide for more information).

PAP travel by boat
You'll be able to use your PAP device on most cruise ships but do check with the tour operator before you leave. The power supply should be between 100–240V and 50–60Hz. Remember to pack a suitable power adapter as power sockets can differ between countries – if you don't have one, you'll be all at sea!
Spending time on a yacht? Get in touch with the marina or boat-hire company in advance to ask if a suitable power supply will be available. You might need a DC/DC converter to operate your device onboard.

PAP therapy at your destination
Using your therapy device at a hotel or rental property shouldn't be too different from using it at home. It's a good idea to take an extension lead in case the power sockets are far away from the bed, as well as a suitable adapter plug if you're travelling abroad.
Camping or in mobile accommodation? It shouldn't be a problem if your caravan site or campsite provides access to mains electricity. And if it doesn't, remember that ResMed therapy devices can be powered from one of our recommended external battery packs or from a car, boat or other vehicle equipped with a 12V or 24V DC power source. If you're powering your device from a vehicle, remember that you'll need a DC/DC power converter and make sure you don't accidentally drain the battery!
Most ResMed devices are designed to function at up to 2,591 metres above sea level. If you'll be sleeping at a ski station or summer mountain resort at altitude, please check your device user guide for specific guidance or contact us for advice before you leave.

PAP on the move: our useful travel checklist
That might seem like a lot of information so here's the digested version:
Take a copy of useful information
A letter from your healthcare practitioner certifying that you need PAP therapy.
A note of your treatment pressure, mask type and mask size, plus contact details for your healthcare practitioner, equipment supplier and care provider.
Health insurance details, including your policy number and the provider's contact details.
ResMed's FAA Air Travel Compliance Letter, so you'll be able to carry your device through airport security and onto the plane.

Make sure you'll have power
At least two weeks before you fly, ask the airline for permission to use your device on a flight. If they give permission in writing, take a copy of the letter/email with you.
If you'll be travelling overnight, contact the tour operator or travel company in advance to ask if you'll be able to plug in your therapy device.
Pack a power adapter if you'll need to use your device on a plane or other mode of transport.
Pack a mains plug adapter suitable for your destination country.
Pack an extension cord so you can use your device comfortably if the power socket is in an awkward location.
Consider taking a recommended battery pack if you're not sure that a suitable power supply will be available.
Last but not least, check that your device is working properly before you leave and remember to pack suitable spares and accessories, especially if you're taking a longer trip. That includes mask cleaning equipment, an extra cushion or two and some spare wipes.

Bon voyage!
We hope we've convinced you that travelling with your PAP equipment can be simple and makes good sense. And we really hope that continuing your sleep apnoea treatment during your travels will help you to have a marvellous time. For more details about travelling with sleep apnoea treatment, take a look at our dedicated e-book on the subject. Enjoy your trip!