It's World Diabetes Day!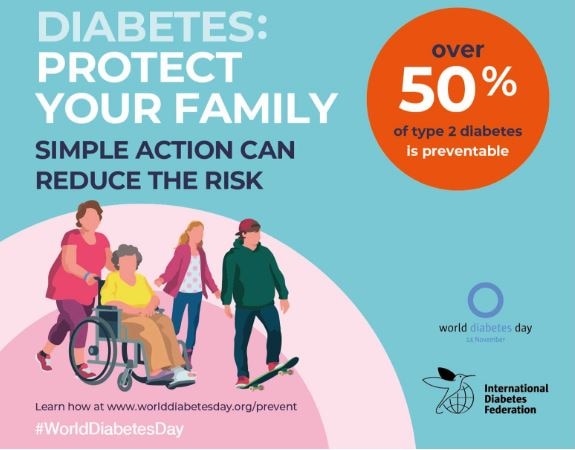 November 14th 2019
Today is World Diabetes Day. It's an annual event held on the 14th of November that aims to spread the word about the importance of tackling diabetes and recognising it as a critical global health issue.
Why the 14th November? Well, it's a significant date: the birthday of Sir Frederick Banting who, in 1922, co-discovered insulin along with Charles Best. World Diabetes Day was created in 1991 by the International Diabetes Federation (IDF) and the World Health Organisation (WHO) in response to growing concerns about the escalating health threat posed by diabetes. It has since grown to become a globally celebrated event and an official United Nations (UN) awareness day. It is now the world's largest diabetes awareness campaign.
November 2019 marks the second year of a two-year theme dedicated to "The Family and Diabetes". Research conducted by the International Diabetes Federation (IDF) revealed that many parents would struggle to spot the warning signs of diabetes in their own children.
According the NHS1 you, or a family member, should see your GP as soon as possible if you experience the main symptoms of diabetes which can include:
feeling very thirsty
peeing more frequently than usual, particularly at night
feeling very tired
weight loss and loss of muscle bulk
itching around the penis or vagina, or frequent episodes of thrush
cuts or wounds that heal slowly
blurred vision
Diabetes and Sleep Apnoea
Diabetes and sleep apnoea are strongly associated with one another. Clinical research shows that as many as 48% of people diagnosed with type 2 diabetes have also been diagnosed with sleep apnoea.2 Even more striking, researchers believe that 86% of obese type 2 diabetic patients suffer from sleep apnoea.3 For more information see our article "Diabetes and Sleep Apnoea"
Useful diabetes resources