Nox A1
Connected polysomnography device for sleep studies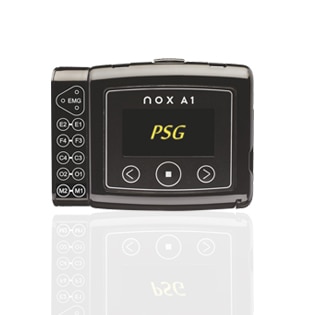 The Nox A1® system from NOX Medical, is an easy-to-use PSG that can be used to perform home sleep testing as well as in-lab, online sleep studies with video and external devices. It features an integrated head box and is fitted with a built-in microphone for audio recording and playback.
Key features
Revolutionary ergonomics in electrode application save time during patient hook-up and help to increase patient comfort.
Extensive signal capabilities provide detailed data for improved diagnostics. The Nox A1 monitors abdomen and thorax respiratory efforts and derived flow, nasal cannula flow and mask pressure, body position and activity, SpO2, pulse and plethysmography, and EtCO2 (optional) signals. It also offers a series of unipolar and configurable bipolar inputs.
An extremely high sampling rate of 256 kHz with continuous impedance control, enables you to minimise lost studies.
Powerful Noxturnal software provides you with automatic analysis, scoring and reporting in a user-friendly format. For extra flexibility, use the Noxturnal app for Android tablets to set up recorders and perform bio-calibration and impedance checks next to your patient.
By using Bluetooth® technology to create a wireless body area network, the Nox A1 saves time during hook-up, increases your patient's comfort, and saves on cleaning costs. It can also be used to connect external devices, such as a PtCO2 monitor, ResMed S9 series device or Tx Link, during the sleep study.
A built-in microphone records high quality sound. Playing the audio along with the other recorded signals can give you new insights into your patient's sleeping habits and help you to fine tune your diagnosis. An online video option is also available.
How to buy
Please contact our Customer Service department or your local representative for more information on obtaining ResMed products.
Warranty & services
Looking for service and warranty information on the Nox A1 connected polysomnography device?
Find the answers to your questions in our resource centre.