Noxturnal
Analysis & reporting sleep software for Nox A1/Nox T3s
Noxturnal software offers a broad range of functionalities, from programmed sleep tests and in-lab online recording with video, to manual scoring, customised reports and data export. These features can be adapted to the specific requirements of individual clinicians.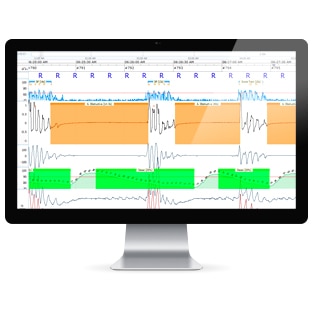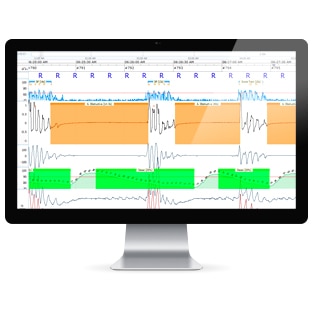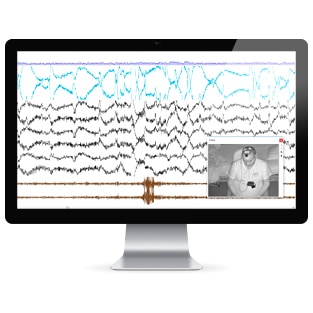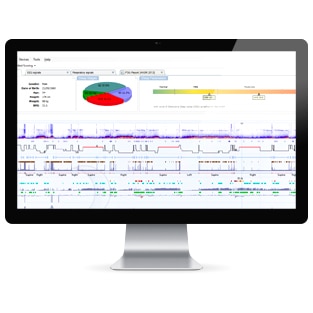 Key Features
Noxturnal automatically analyses study data during download and immediately displays the recording results in a simple view. When you have finished analysing the study, these results are automatically updated so you always have the right data at your fingertips.
To simplify the scoring process for technicians and physicians to minimise the time needed for analysis, Noxturnal can automatically pre analyse recorded signals. You can customise and edit the automatic analysis protocols as necessary.
Noxturnal's reporting system is designed to resemble familiar word-processing packages, so it's easier for you to create, edit and customise your sleep reports. You can also create custom statistical fields for increased flexibility.
Thanks to a patent-pending algorithm, Noxturnal can turn good quality RIP signals into a calibrated RIP signal. The system can derive flow from your patient's RIP belt and use it to complement the flow signal coming from their nasal cannula, or use it as a substitution if your patient cannot use a nasal cannula.
Noxturnal software offers a wide range of features, including extended AASM standard PSG recording, immediate recording results with automatic analysis, calibrated RIP technology, flow volume loops, and new Pleth waveform analysis. The workspace, reporting framework and statistical fields can be customised and centralised settings can be set up for multi-user environments.
Learn about the Nox T3s connected polygraphy device for sleep studies.
Learn about the Nox A1 connected polysomnography device for sleep studies.
How to buy
Please contact our Customer Service department or your local representative for more information on obtaining this ResMed product.
Warranty & services
Looking for service and warranty information on the Noxturnal analysis & reporting sleep software?
Find the answers to your questions in our resource centre.
Please refer to the clinical guide for relevant information related to any warnings and precautions to be considered before and during use of the products.