Nox T3s
Polygraph with sleep time estimation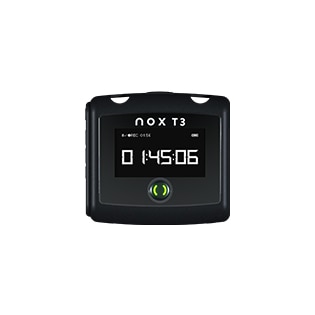 Like its predecessor, the Nox T3s is an easy-to-use, portable sleep recorder that enables the home-based diagnosis of sleep-related breathing disorders. With Nox BodySleep, a new and accurate sleep indicator, along with a modernised version of the Noxturnal software which offers an intuitive results overview and visualisation of the sleep states, the Nox T3s ensures accurate diagnostics.
Discover Nox T3s
The Nox T3s is an intuitive Home Sleep Test device with easy-to-use features, an updated design and a responsive user interface that patients and healthcare professionals will find easy to use. Watch this video to learn more.
Nox BodySleep: The first sleep indicator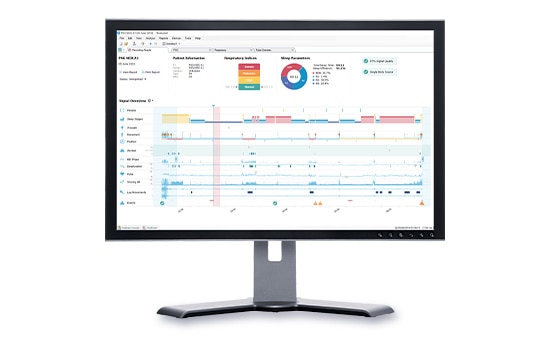 Nox BodySleep is a new function that adopts an Artificial Intelligence (AI) method which classifies each 30-second time frame as a state of REM sleep, NREM sleep or wakefulness. This approach was mainly implemented by extracting information from the Nox RIP belts in the Nox A1 PSG studies1.
Noxturnal: Patient data management software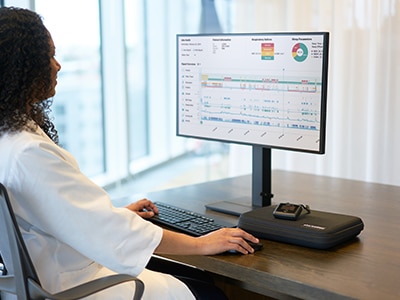 Noxturnal has been modernised with a new interface to better adapt to each clinician's specific requirements and allow even more effective management of patient data. This is achieved through:
Nox BodySleep analysis improving AHI accuracy1.
Updated PLM analysis updated for more precise diagnostics1.
New recording results overview designed to provide workflow efficiency.
New report parameters calculations giving physicians more in-depth data and report customisation flexibility.
Warranty and services
Looking for service and warranty information on ResMed Nox T3s? Find the answers to your questions in our resource centre.
References:
1. Ragnarsdóttir, H., Már Þráinsson, H., Finnsson, E., Gunnlaugsson, E., Ægir Jónsson, S., Skírnir Ágústsson, J., & Helgadóttir, H. (2019). BodySleep: Estimating sleep states from respiration and body movements. [Poster Presentation]. World Sleep, Vancouver.
2. Dietz-Terjung, S., Martin, A., & Schoebel, C. (2020). A novel algorithm for the estimation of sleep states based on breathing and movement. Sleep (43, Issue Supplement 1), pp. A170-A170, DOI: https://doi.org/10.1093/sleep/zsaa056.442
3. Danker‐hopfe, H., Anderer, P., Zeitlhofer, J., Boeck, M., Dorn, H., Gruber, G., … & Saletu, B. (2009). Interrater reliability for sleep scoring according to the Rechtschaffen & Kales and the new AASM standard. Journal of sleep research, 18(1), 74-84.
4. Tataraidze, A., Anishchenko, L., Korostovtseva, L., Kooij, B. J., Bochkarev, M., & Sviryaev, Y. (2015, August). Sleep stage classification based on respiratory signal. In 2015 37th Annual International Conference of the IEEE Engineering in Medicine and Biology Society (EMBC) (pp. 358-361). IEEE.