AirView™ for patient therapy management
AirView connects to sleep, ventilation and high-flow therapy (HFT) devices so you can manage and support patients on these different treatments via the same platform.
AirView displays device and therapy information in easy-to-read reports and dashboards – read on to learn more about these features and how to take advantage of them.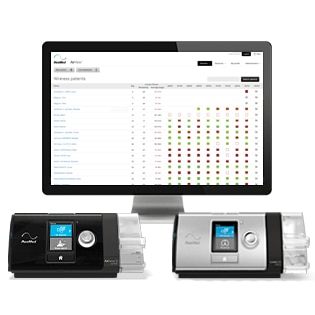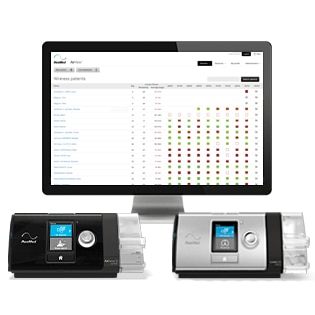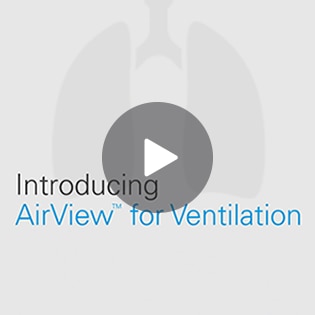 A patient management system for ResMed's sleep and ventilation devices

Daily automatic data transmission
Rely on up-to-date, accurate data when making care decisions for your patients. ResMed connected devices automatically upload each patient's device and therapy data to AirView, either daily or on demand.* This data can also be uploaded via SD card if required.**

Patient list dashboards
See an overview of compliance and basic therapy issues for all your patients with easy-to-read, colour-coded AirView dashboards.

Remote Assist function
Access an up-to-date snapshot of issues your patients may have with their devices to support remote troubleshooting.
Remote Assist is not available with Stellar™, Astral™ and Lumis™ HFT devices.

Remote access to device settings***
View and change therapy device settings remotely to reflect your patients' changing needs and support adherence from titration† to long-term therapy.
Remote settings change capability is not available with Stellar, Astral and Lumis HFT devices.

Straightforward reporting
Streamline patient administration by generating Compliance, Therapy or Detailed reports in one click.
AirView's advanced features for sleep apnoea therapy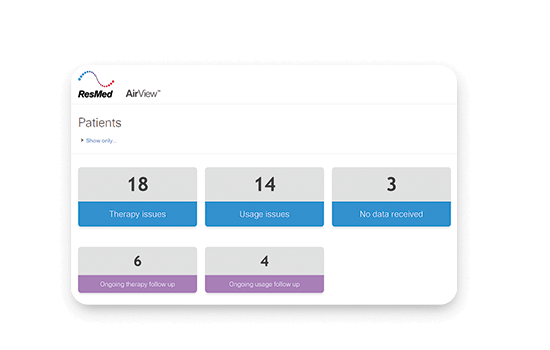 Effective remote monitoring with rule-based filters
Action Groups is a monitoring and management feature designed to improve quality of care, which you can use to simplify sleep apnoea patient management. By filtering sleep apnoea patients into groups that reflect common therapy issues and setting therapy or usage thresholds, you can easily see when a patient is having problems that need addressing.
Available for Air10™ PAP devices.
AirView's features for ventilation therapy
Using AirView for Ventilation
If you want to simplify the way you monitor respiratory patients and rapidly identify issues if they arise, click the buttons below to discover the advantages of using AirView for Ventilation and AirView for High Flow Therapy (HFT).
Combining AirView and myAir improves patient compliance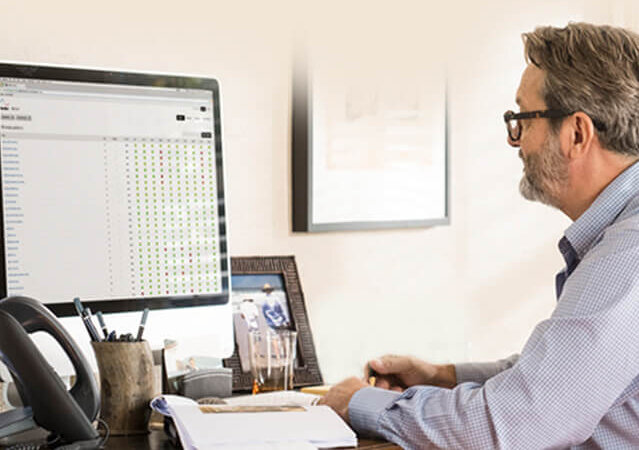 87% compliance for CPAP patients using myAir and monitored with AirView over the first 90 days.1
For more information about myAir, please contact your ResMed representative.
Interested in AirView? Request a demo or register
If you'd like to see how AirView works for yourself, your ResMed representative will be happy to guide you through an online demo – or you can register now to start using it straight away.
AirView for therapy management FAQs
AirView is not downloaded – you simply access it online via an internet browser – check the browser specifications below in last question of the FAQs.
Please contact your ResMed representative, who'll be able to talk you through the pricing information.
You can ask your ResMed representative for an online demo or request one here. We also offer how-to videos that explain AirView functionalities.
On the sticker at the back of the Air10 and Lumis patient devices.
You have two options: either click 'Access patient file' on the All Therapy page and provide three key pieces of information: patient date of birth, device number and device serial number. Or you can ask the patient's care provider to link you to the patient file.
RCM stands for ResMed Connectivity Module. You plug this module into the Stellar or Astral patient device to enable a wireless connection to AirView. The module sends data from the device to AirView so you can manage your more demanding ventilated patients remotely.
This is a system that allows you to upload data from therapy device SD cards or USB sticks, as well as from ApneaLink Air, without the need for Java applets.
Hardware requirements
PC – Pentium 1.6 GHz or greater with an active internet connection
Memory – 500MB RAM or greater
Screen resolution – 1,024 x 768 (minimum)
SD card reader (required to download data from a data card)
USB port
Operating system requirements
One of the following:
Microsoft® Windows 7 32 and 64-bit (Home Premium and Professional)
Microsoft® Windows 8.1 (Home Premium and Professional)
Microsoft® Windows 10 (Home Premium and Professional)
Browsers
One of the following:
Mozilla Firefox™ 42.0 or newer
Google Chrome™ 86.0 or newer
Microsoft Edge™ 87.0 or newer
Additional software required
While not essential, the following programs (or equivalents) are necessary to download card data and view exported data and reports from AirView.
Microsoft™ Office Excel™ 2007 or above
Adobe™ Acrobat™ Reader 10.0.1 or above
Oracle™ Java™ SE 8
ResMed Cloud Connect
How to videos
For features across sleep, ventilation and high-flow therapy devices
Create and update patient record
Only available for Care Providers
Change prescription settings
Troubleshoot device issues (Air10 and Lumis devices)
Create and update locations
Create and update insurers
Create and update physician access
Create and update compliance options
Link a physician for interpretation
For specific sleep therapy features
Action groupsOnly available for Care Providers
For specific ventilation therapy features
View device logs (Astral, Stellar and Lumis devices)
Remote changes to Lumis device modes and settings
Access and analyse clinical data with ease
Save and share insights*
*In order to protect the privacy of patients, please only share data related to their therapy follow-up.
Streamline the management of ventilated patients
This content is intended for health professionals only. Please refer to the AirView e-help for relevant information related to any warnings and precautions to be considered before and during use of the product.
References:
*Data from Air10 devices is sent one hour after the end of each therapy session. Additional delays may occur during cloud processing. AirView also works with Stellar and Astral devices when they are connected to a wireless module. In this configuration, data is transmitted once a day, at a fixed time. Data on demand can be enabled for Astral and Stellar devices. Please contact your ResMed representative to learn more.
**Available for Air 10, Lumis and Lumis HFT devices only.
***AirView settings must only be changed by a physician or in line with a physician's recommendations, following therapy data analysis. Please be aware that remote therapy settings management is not permitted in all countries.
†AirView is not intended for remote titration. Consult a physician for any changes you make to therapy settings that modify an existing prescription.
‡When paired with the ResMed SpO2 monitor. Available for Lumis, Astral and Stellar only.
Malhotra A, Crocker ME, Willes L, Kelly C, Lynch S, Benjafield AV. Patient Engagement Using New Technology to Improve Adherence to Positive Airway Pressure Therapy: A Retrospective Analysis. Chest. 2018 Apr;153(4):843-850. doi: 10.1016/j.chest.2017.11.005. Objective ID: B170639.